Macedonian President Meets With Iraqi Premier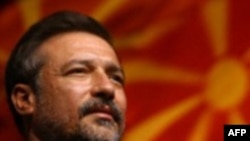 Branko Crvenkovski (file photo) (AFP) January 7, 2007 -- Iraqi Prime Minister Nuri al-Maliki discussed the situation in Iraq with visiting Macedonian President Branko Crvenkovski today.
Government officials reported the meeting but gave no further details.
As a member of the U.S.-led military coalition in Iraq, Macedonia has 35 troops and five liaison officers in the country.
(AP)