Georgian Truckers Block Border With Russia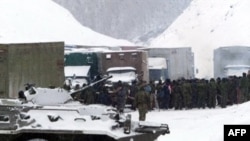 The blockaded border crossing on January 6 (AFP) January 8, 2007 -- About 60 Georgian truckers continue to block a highway crossing into Russia in protest a Russian decision to ban their cargo of tangerines on food-safety grounds.
Relations between Russia and Georgia have been strained for months. Russia suspended trade, transport, and financial links with Georgia after Tbilisi briefly detained four Russian officers on spying charges in September.
Russia has said the trucker protest -- now in its fourth day -- must stop.
(Reuters)
Russian Sanctions On Georgia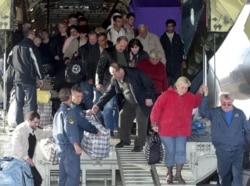 Georgian deportees arriving in Tbilisi on October 6 (epa)
RUSSIA DEPORTING GEORGIANS. Despite Georgia's release of four military officers accused of spying on October 2, Russia has continued its transport and postal blockade of Georgia, and has also deported hundreds of Georgians.... (more)
RELATED ARTICLES
Council Of Europe Head 'Concerned' About Reports Of Russian Sanctions
'No Time To Send Ambiguous Messages'
Ethnic Russians Feel Insulated From Tensions
Explaining West's Muted Response To Crisis
MORE: Coverage of the situation in Georgian from RFE/RL's Georgian Service and in Russian from RFE/RL's Russian Service.
ARCHIVE
RFE/RL's English-language coverage of
Georgia
and
Russia
.