The center said the average temperature in 2006 was 1.2 degrees Celsius above the 20th-century average.
Last week, Britain's Meteorological Office said this year is likely to be the hottest on record around the world, due to both greenhouse-gas emissions and El Nino, a phenomenon in the Pacific Ocean that can upset normal weather patterns.
(AFP)
Global Climate Change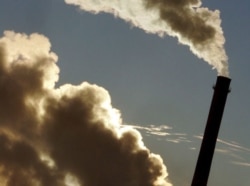 View a photo gallery summarizing some key findings of the Stern report on the economic costs of global warming (epa)

THE STERN REPORT: In October, former World Bank chief economist Sir Nicholas Stern issued a 700-page report on the economic impact of global warming. The report, which was commissioned by the British government, estimates that climate change could cost between 5 and 20 percent of global GDP by the end of the century....(more)
RELATED ARTICLES
Siberia's Once Frozen Tundra Is Melting
Blair Highlights Global-Warming Concerns
Scientists Argue About Need For Urgent Action
ARCHIVE
RFE/RL's
coverage of the environment
.