Sariev has denied the charges, saying he became angry when customs
officials stopped him as he tried to board an airplane to Istanbul.
Sariev
told RFE/RL he had only $10,000 with him, which is usually the maximum
legal amount an individual can carry abroad without declaring it, and
that the money was from his brother to buy goods in Turkey.
The
incident was meant to discredit him, Sariev believes. "Nobody took out,
or counted this money," he added. "All this was created by twisting my
words. Why did I say this? Because they were going to organize some
provocation against me, to discredit my name."
He said that comments he made to the customs officials about the amount of money he had with him at the time were not serious.
Members of the opposition For Reforms movement have called the allegations against Sariev politically motivated.
Sariev was detained at Manas International Airport on January 9 as he was preparing to fly to Istanbul.
Understanding Kyrgyzstan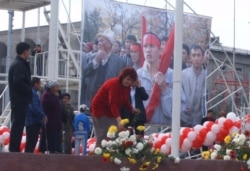 Workers preparing for celebrations of the constitutional compromise in Bishkek on November 9 (RFE/RL)


A STABLE FOUNDATION? On November 9, RFE/RL's Washington office hosted a briefing featuring RFE/RL Kyrgyz Service Director Tyntchtykbek Tchoroev and RFE/RL analyst Daniel Kimmage.
LISTEN
Listen to the complete discussion (about 80 minutes):

Real Audio
Windows Media
RELATED ARTICLES
Parliament Adopts Constitution Curtailing Presidential Powers
Crisis Deepens After President Proposes Constitutional Changes
Bishkek Prepares For Large Opposition Rally