Kyrgyz Lawmaker Challenges Bakiev's Gubernatorial Move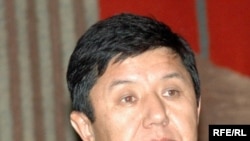 Lawmaker Temir Sariev (file photo) (RFE/RL) November 14, 2006 -- A Kyrgyz opposition lawmaker has challenged President Kurmanbek Bakiev's right to appoint regional governors in a move that could foreshadow disputes stemming from the country's speedy passage of a new constitution.
Addressing fellow parliamentarians today, Temir Sariev said that under the constitution adopted on November 9, the appointment of regional-administration heads should be the prerogative of the prime minister.
Bakiev
signed a decree
on November 13 appointing Kubanychbek Syydanov governor of the Chui region to replace Turgunbek Kulmurzaev. Kulmurzaev was among those calling for Bakiev's resignation amid early November protests to force the government to adopt sweeping constitutional changes.
Sariev today urged Bakiev to rescind his decree, and he called for changes to legislation on self-governing bodies that currently gives the president the right to appoint regional governors.
Prime Minister Feliks Kulov, who was also targeted by protests, has
pointed out
that the "hastily" adopted constitution contains a number of contradictions that must be ironed out.
Parliamentary speaker Marat Sultanov reminded lawmakers on November 13 that they have six months to harmonize Kyrgyz legislation with the new constitution.
(AKIpress, 24.kg)