The demonstrations, which ended on November 9, forced Bakiev to sign a new constitution that reduces presidential powers and gives parliament more control over the appointment of a government.
Prime Minister Feliks Kulov, however, said on November 10 that the document was adopted under pressure and needs clarification.
Opposition parliamentarians today said other laws need to be urgently amended so they don't contradict the new constitution.
Parliament Speaker Marat Sultanov reminded fellow lawmakers that they have only six months to adapt the rest of the legislation to the constitution.
"If we don't approve a special working program quickly, then this six-month deadline will expire [before we can adapt other laws to the constitution]," he said. "There are issues which are related to a number of very important laws that we need to change, such as the [election and criminal] codes, the law on political parties, and the law of the government."
Also today, parliamentarians demanded that law enforcement agencies investigate an incident on November 12, when unknown attackers threw hand grenades into the courtyard of the home of opposition lawmaker Isa Omurkulov.
No one was injured in the blasts.
Omurkulov told RFE/RL's Kyrgyz Service on November 12 that he does not believe the Kyrgyz authorites were behind the incident.

Meanwhile, acting Interior Minister Omurbek Subanaliev told parliament today he is "not yet ready" to sack Bishkek police chief Moldomusa Kongantiev. Subanaliev, who was appointed on November 6, has pledged to dismiss Kongantiev.
The removal of Kongantiev and his brother, Prosecutor-General Kambaraly Kongantiev, were among the opposition's main demands.
(24.kg, AKIpress)

Understanding Kyrgyzstan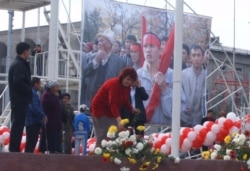 Workers preparing for celebrations of the constitutional compromise in Bishkek on November 9 (RFE/RL)


A STABLE FOUNDATION? On November 9, RFE/RL's Washington office hosted a briefing featuring RFE/RL Kyrgyz Service Director Tyntchtykbek Tchoroev and RFE/RL analyst Daniel Kimmage.
LISTEN
Listen to the complete discussion (about 80 minutes):

Real Audio
Windows Media
RELATED ARTICLES
Parliament Adopts Constitution Curtailing Presidential Powers
Crisis Deepens After President Proposes Constitutional Changes
Bishkek Prepares For Large Opposition Rally