Kyrgyzstan: Bakiev Weighs Response As Deputies Hope To Review Draft Constitution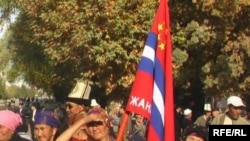 Bakiev supporters in a counterdemonstration in Kyrgyzstan's Batken region on November 8 (RFE/RL) PRAGUE, November 8, 2006 (RFE/RL) -- Kyrgyz lawmakers are expected to begin reviewing a new draft constitution today that would reduce presidential powers and create a larger legislature with enhanced authority. Passage could end months of intense political fighting and days of public protests.
Opposition and pro-government lawmakers reached an agreement on a compromise draft constitution late on November 7. But it is still unclear whether the deal will be embraced by embattled President Kurmanbek Bakiev, whose supporters are demanding a referendum on any new constitution.

Lawmakers today approved procedural amendments that are indispensable to the adoption of a new constitution. They now go to President Bakiev for his approval.

Deliberating

Bakiev later shut himself away in his office with his prime minister, Feliks Kulov; the opposition speaker of parliament, Marat Sultanov; the chairman of the Supreme Court, Kurmanbek Osmonov; and the chairwoman of the Constitutional Court, Cholpon Baekova. The meeting lasted several hours, and none of the participants commented afterward.

Presidential representatives later went to the parliament for consultations with both pro-government and opposition lawmakers.

Participants issued a statement after the talks, reporting further progress on how the parliament, the government, and the judiciary should be formed.

Protests Continue

Bakiev's political foes say the protest rallies that have been taking place on Bishkek's Alatoo Square since November 2 will cease as soon as a compromise constitution is adopted. They have demanded that the president's team step down if it does not implement sweeping reforms.

Some 5,000 opposition supporters were out today on the square, which abuts the presidential administration and the government's headquarters.
"We will stay there until a new constitution is adopted... We will remain there until the demands made during the 2005 revolution are met."
One of the protests' organizers, Asaba (Flag) opposition party leader and former Foreign Minister Roza Otunbaeva, told RFE/RL's Kyrgyz Service today that protesters are determined to see their demands met.

"Thousands of people are staying there," Otunbaeva said. "We will stay there until a new constitution is adopted. That is currently our plan. We will remain there until the demands made during the 2005 revolution are met."

Pressure On Bakiev

The opposition has accused Bakiev of reneging on a campaign pledge to curtail the powers of the presidency. He won election in July 2005 following the ouster of longtime President Askar Akaev, who fled to Russia.

Bakiev has not commented on the deal reached late on November 7.

In comments to RFE/RL's Kyrgyz Service today, opposition lawmaker Temir Sariev urged Bakiev to accept the compromise.

"If we fail to adopt a new constitution and send people home by this evening, then we may find ourselves in a difficult situation," Sariev said. "The president had to understand that. There are, in the history of a state, some important moments. Our only demand is that Bakiev quickly implement the reforms. The president must do that; he must behave like a responsible politician."

A Kyrgyz news agency, 24.kg, today quoted Sariev as saying Bakiev insists on changes to the draft constitution before it is sent to the legislature. Sariev said the president wants his name to appear as one of the constitution's co-authors.

Bakiev reportedly also wants to retain the right to appoint local judges. Finally, Bakiev is said to be demanding that the president have the power to formally endorse any government that -- under the draft constitution -- should be formed by the party that wins a majority in the legislature.

Reduced Powers

In general, the compromise version of the constitution is described as establishing a mixed parliamentarian-presidential form of government.

If it is adopted, the president would surrender control over the National Security Service (SNB) and the Prosecutor-General's Office.

The presidency would also lose its power to dismiss the head of the Central Election Commission or of the Accounting Chamber without legislative approval.

Parliamentary speaker Marat Sultanov said on November 7 that presidential powers would be reduced even further than in a controversial draft that was backed hoursearlier by renegade lawmakers.

But opposition lawmaker Melis Eshimkanov claimed today that the compromise was made possible only because the anti-Bakiev camp had made concessions.

'A Real Danger'

Eshimkanov told RFE/RL's Kyrgyz Service that the opposition fears a repeat of clashes that pitted pro-Bakiev demonstrators against purported antigovernment protesters in central Bishkek on November 7.

"There is now a real danger of a civil conflict," Eshimkanov said. "If [new incidents] were to take place again, then both the government and the opposition would risk losing control over the whole process. Priority should not be given to our [political] ambitions, or those of President Bakiev. Priority should be given to preserving stability and peoples' lives. This is why we made concessions and agreed to [a compromise version of a draft constitution]."

Meanwhile, more pro-government rallies took place today across Kyrgyzstan.

In Bishkek, some 3,000 demonstrators remained this afternoon on the Old Square that abuts the parliament.

Addressing the crowd, pro-presidential Erkindik (Freedom) party leader Topchubek Turgunaliev demanded that the new constitution be adopted not by parliament -- but through a national referendum.

"We urge the Kyrgyz nation and all the country's political forces to preserve peace and concord. Peace! Reform!" Turgunaliev told a cheering crowd.

The AKIpress news agency says hundreds of presidential supporters gathered in Bakiev's home city of Jalalabat and in nearby Osh, in southern Kyrgyzstan.

Other pro-government rallies were reported in the northeastern city of Talas.

In the southern city of Batken, demonstrators reportedly began collecting signatures to demand that the parliament be dissolved.