Kyrgyz President, Officials Discuss New Constitution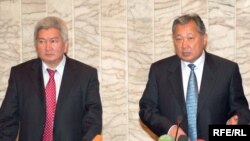 President Bakiev (right) and Prime Minister Kulov at a press conference in Bishkek on November 7 (RFE/RL) BISHKEK, November 8, 2006 (RFE/RL) -- President Kurmanbek Bakiev is discussing with other top Kyrgyz officials a new version of the constitution and ways to adopt it as soon as possible, RFE/RL's Kyrgyz Service reported.
The officials include parliament speaker Marat Sultanov, Prime Minister Felix Kulov, Supreme Court Chairman Kurmanbek Osmonov, and Constitutional Court Chairwoman Cholpon Bayekova.
Meanwhile, several thousands of Bakiyev's opponents and supporters again took to the streets in central Bishkek.
Earlier today, lawmakers voted through a procedural amendment allowing changes to be made to the constitution. Bakiev has to sign the new legislation before it comes into force.
Opposition and pro-government lawmakers have reached agreement on a compromise version of the constitution. The opposition has said it will end its public protests if a new constitution cutting presidential powers is approved.