The move is likely to put an end to nearly a week of opposition protests demanding that Bakiev usher in constitutional reforms or resign. Opponents accused Bakiev of abandoning reform pledges he made ahead of his July 2005 election.
The president had already offered his backing for the draft before parliament adopted it late on November 8.

Bakiev previously said he was in favor of retaining a presidential form of government. But today, he welcomed the new constitution as a milestone in the history of post-Soviet Kyrgyzstan.

"The present document is a new step in the development of the Kyrgyz Republic's democracy and the perfecting of the constitutional foundations of our state, where there is a strong president, a strong Jogorku Kenesh (parliament), a strong government, and a mature and responsible civil society," Bakiev said.

The new constitution's follows a week of opposition-backed street protests in the Kyrgyz capital, and scattered demonstrations elsewhere.

RFE/RL's Kyrgyz Service reports that some 15,000 opposition supporters gathered today on Bishkek's central Alatoo Square to celebrate the new constitution with music and dances.

They took down the two-dozen large tents that had been set up on the square, which abuts the presidential administration, at the height of the weeklong street protests.

Some 200 smaller tents had already been taken down.

Meanwhile, pro-government supporters were clearing the nearby Old Square, where they had been demonstrating in support of President Bakiev for the past two days.

Parliamentary speaker Marat Sultanov, who attended today's signing ceremony with Prime Minister Feliks Kulov and other high-ranking state officials, said the compromise document represents progress.

"I think it was indeed a real compromise," Sultanov said. "We've consulted with a number of pretty well-known [legal] experts, and they agree that this constitution is making several steps forward -- not just one step, but several steps -- in comparison with the constitution that was in effect until today."

Opposition leaders say they want Bakiev to implement now other reforms -- including the transformation of Kyrgyzstan's state television into a public broadcaster.

Bakiev rose to power when public protests culminated in the ouster of longtime President Askar Akaev in March 2005, and he was confirmed as president four months later.
Beijing 'Glad'

The Chinese Foreign Ministry said today that it was "glad" to see that the weeklong standoff over constitutional
reforms in neighboring Kyrgyzstan was resolved through peaceful and legal means.
Foreign Ministry spokeswoman Jiang Yu said achieving political stability will help Kyrgyzstan further develop, according to Xinhua news agency.
China expressed concern at developments in Kyrgyzstan on November 7 after pro-government and purported opposition supporters clashed in Bishkek.
(with material from AKIpress and 24.kg)
Understanding Kyrgyzstan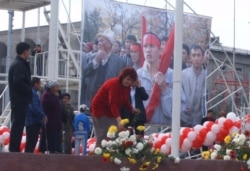 Workers preparing for celebrations of the constitutional compromise in Bishkek on November 9 (RFE/RL)


A STABLE FOUNDATION? On November 9, RFE/RL's Washington office hosted a briefing featuring RFE/RL Kyrgyz Service Director Tyntchtykbek Tchoroev and RFE/RL analyst Daniel Kimmage.
LISTEN
Listen to the complete discussion (about 80 minutes):

Real Audio
Windows Media
RELATED ARTICLES
Parliament Adopts Constitution Curtailing Presidential Powers
Crisis Deepens After President Proposes Constitutional Changes
Bishkek Prepares For Large Opposition Rally