Iranian Supreme Leader Ayatollah Khamenei, during a speech in Tehran on January 8, described Iran's nuclear program as a "native achievement" and "a source of pride" for Iran and the Islamic world.
"It is expected that the international and domestic pressure will increase on Tehran as the two-month UN deadline for Iran to curb its nuclear activities draws closer."
'Indisputable Right'
"[The Iranian nation] will not abandon its right and the country's officials have no right to deprive the nation of its right," he said.
His comments came some three weeks after the adoption of a UN resolution that put sanctions on Iran in an attempt to get Tehran to curb its nuclear program.
Iranian officials have rejected the resolution as "illegal" and said that they will continue their nuclear program with speed and determination.
Officials have also dismissed UN Security Council sanctions as insignificant and said they will not affect Tehran's nuclear activities.
Parliament Concerned
Four days after the adoption of the UN resolution, the Iranian parliament passed an urgent bill that obliges the government to "review its relations with the UN nuclear energy agency."
Parliament speaker Gholam Ali Hadad Adel said Iran should react to the international pressure.
"The parliament warns the government not to limit the country's authority in the framework of the [IAEA] and show a proportionate and timely reaction to the pressure on Iran," he said.
But there is also growing concern about the costs of Iran's defiance and what is termed as the inefficiency of the official stances. In recent weeks a number of former officials have warned that the UN's December 23 resolution could result in economic sanctions that could severely affect Iran's economy.
The Security Council has given Iran a two-month deadline to suspend its uranium-enrichment program or face tougher measures. So far there are no signs that Tehran will comply.
Unhappy Reformers
On January 3 Hossein Moussavian, a former member of Iran's nuclear negotiating team, called for renewed diplomacy in the nuclear standoff. Moussavian said Iran has no choice but to return to the negotiating table.
Reformist legislators have also spoken out and blamed President Mahmud Ahmadinejad's government for failing to prevent UN sanctions and causing tensions by organizing a Holocaust conference.
Iran's largest reformist party -- the Islamic Iran Participation Front, or Mosharekat -- has also voiced similar concerns. The party last week called for a return to the nuclear policy followed by the previous reformist government in order to prevent a further deterioration of the nuclear crisis.
Mosharekat said Iran should return to international negotiations, create trust in its nuclear program, and refrain from what it called "adventurist" policies. It also said Tehran should talk to all UN Security Council permanent members, including the United States, over the nuclear issue.
Others, including a group of religious nationalist activists, have also publicly criticized the country's nuclear policy.
Focus Is Only On Nuclear Issue
The group -- which includes several former government officials -- said in a recent statement that Tehran's "vain" persistence on the right to have a nuclear program has damaged the country. The statement added that Iran has other rights -- including human rights and the right to development and welfare -- that are being ignored.
Iranian officials often described the nuclear program as the country's most important issue and "Nuclear Energy is our indisputable right" has become a major catch phrase of the government.
Ali Akbar Moinfar, a former oil minister and a signatory to the statement, told Radio Farda on December 25 that officials should give up "slogans" and act wisely.
"Unfortunately foreign countries and also inside the country, everyone has focused on the nuclear issue," Moinfar said. "It seems that people's real issues have been forgotten. Human rights are the most important thing for the people of Iran. Our main point is that people's] rights should be officially recognized and [respected]."
Observers believe the growing criticism is unlikely to have an immediate impact on the country's decision makers.
More Than A Scrap?
On January 9 the conservative daily "Joumhuri Eslami" said in an editorial that those who have criticized the country's current nuclear policies and called for a return to past policies do not realize that they are giving a lever to "foreigners" who think they can make Iran back down by passing a resolution.
The daily acknowledged that the UN resolution is damaging for Iran, adding that it should neither be exaggerated nor called "a piece of scrap" in an indirect reference to comments made by Ahmadinejad.
The daily, which is said to reflect the views of Iran's supreme leader, also openly criticized Ahmadinejad's rhetoric on the nuclear issue and advised him not to comment on it during his provincial trips and to leave such commenting to those who are in charge of the case.
Gholamreza Aqazadeh, the head of Iran's Atomic Energy Organization, said last week that Iran will continue its cooperation with the IAEA. But he said a committee with Iran's National Security Council is reviewing ties with the IAEA.
Meanwhile, it is expected that the international and domestic pressure will increase on Tehran as the two-month UN deadline for Iran to curb its nuclear activities draws closer.
For example, on January 9 the United States banned all transactions with a major Iranian bank, Bank Sepah, because Washington said the bank has actively supported Iran's ballistic-missile program.
(Radio Farda broadcaster Mossadegh Katouzian contributed to this report.)
The Proliferation Threat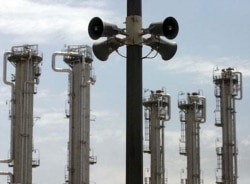 The Arak heavy-water plant in central Iran (Fars)


BENDING THE RULES. Henry Sokolski, executive director of the Nonproliferation Policy Education Center, told an RFE/RL-Radio Free Asia briefing on January 9 that the West is hamstrung in dealing with Iran and North Korea because of the way it has interpreted the international nonproliferation regime to benefit friendly countries like India and Japan.
LISTEN
Listen to the entire briefing (about 90 minutes):

Real Audio
Windows Media
RELATED ARTICLES
Iran, North Korea Present Proliferation Challenges
Tehran Watches As North Korea Tests Global Resolve
Rogue Nuclear Programs Threaten New Arms Race
Why Shouldn't Pyongyang Join Nuclear Club?