The report was followed by a new warning from the U.S. military regarding suspicions of weapons flows from Iran to Iraq, highlighting tensions between Washington and Tehran.
Iranian news agency IRNA today confirmed the Irbil raid, saying U.S. troops arrested five Iranian officials at the consulate in the Kurdish region and confiscated documents and computers.

IRNA also reported that the Iranian Embassy in Baghdad has handed over a note of protest to the Iraqi Foreign Ministry criticizing what Iran is calling the "illegal move" and demanding the immediate release of the arrested consulate staff.
But AFP later quoted Pentagon spokesman Bryan Whitman as denying that the raid in Irbil was conducted on an Iranian consulate or government building.
Later, a White House spokesman, Gordon Johndroe, declined to comment specifically on the operation. But Johndroe said the United States has made it clear that "if we get information that is actionable that the Iranians are interfering with Iraq, with Iraqis, or in any way going to harm Americans, that we're going to take action."
U.S. Brass Says Iranians Feeding Iraq Violence
The top military adviser to U.S. President George W. Bush has repeated U.S. accusations that Iranians are supplying weapons to feed the violence in Iraq.
General Peter Pace, the chairman of the Joint Chiefs of Staff, added that the United States will do everything it takes to counter such activities.
"It is clear that the Iranians are complicit in providing weapons, and it is also clear that we will do all we need to do to defend our troops in Iraq by going after the entire network, regardless of where those people come from," Pace warned.
Pace was speaking at a televised news conference alongside Secretary of State Condoleezza Rice and Defense Secretary Robert Gates.
Iranian officials have dismissed past suggestions that they are supplying weapons to the Iraqi insurgency.
U.S. and U.K. officials have repeatedly pointed to the discovery of Iranian arms in Iraq.
Tehran has enjoyed close ties with leaders among Iraq's Shi'ite community, many of whom sought haven in neighboring Iraq under Saddam Hussein's Sunni-led government.

(IRNA, Reuters, AFP)
Iraq And Iran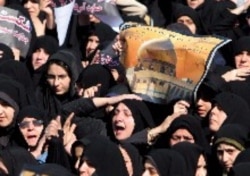 Iranian Shi'a protesting the Golden Mosque Bombing in Iraq on February 24


WHAT IS GOING ON? On March 8, RFE/RL's Washington office hosted a roundtable discussion on relations between Iraq and Iran. Although most analysts agree that Iran has been actively involved in Iraq since the U.S.-led military operation to oust former Iraqi President Saddam Hussein, they continue to debate the nature, extent, and intent of that involvement.
The RFE/RL briefing featured WAYNE WHITE, former deputy director of the U.S. State Department Bureau of Intelligence and Research's Office of Analysis for the Near East and South Asia, and A. WILLIAM SAMII, RFE/RL's regional analyst for Iran and editor of the "RFE/RL Iran Report."
LISTEN
Listen to the complete RFE/RL briefing (about 75 minutes):

Real Audio
Windows Media
RELATED ARTICLES
Iran/Iraq: Bilateral Ties Improving Despite U.S. Worries
Renewed Speculation About Tehran And Instability In Iraq
Iran/Iraq: Neighbors Mending Ties, But Outstanding Issues Remain
ARCHIVE
RFE/RL's
coverage of Iran
. RFE/RL's
coverage of Iraq
.