The U.S. Treasury Department has banned all transactions between Sepah Bank and U.S. businesses, accusing the bank of supporting Iranian weapons proliferation.
In today's statement on the bank website, Sepah has assured its clients that there will be "no disturbance in its domestic and overseas services."
U.S. authorities had also said that any Sepah Bank assets under U.S. jurisdiction had been confiscated.
Treasury Department Undersecretary for Terrorism and Financial Intelligence Stuart Levey described Sepah's activities as having aided Iran's pursuit of missiles capable of delivering weapons of mass destruction.
Washington has repeatedly accused Tehran of secretly trying to develop nuclear weapons -- a charge that Iranian officials have consistently denied.
(AFP)
The Proliferation Threat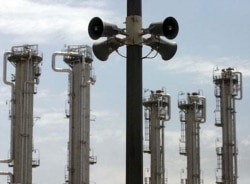 The Arak heavy-water plant in central Iran (Fars)


BENDING THE RULES. Henry Sokolski, executive director of the Nonproliferation Policy Education Center, told an RFE/RL-Radio Free Asia briefing on January 9 that the West is hamstrung in dealing with Iran and North Korea because of the way it has interpreted the international nonproliferation regime to benefit friendly countries like India and Japan.
LISTEN
Listen to the entire briefing (about 90 minutes):

Real Audio
Windows Media
RELATED ARTICLES
Iran, North Korea Present Proliferation Challenges
Tehran Watches As North Korea Tests Global Resolve
Rogue Nuclear Programs Threaten New Arms Race
Why Shouldn't Pyongyang Join Nuclear Club?