Serbian Magnate Reportedly Arrested For Embezzlement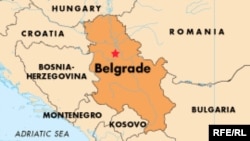 (RFE/RL) January 11, 2007 -- Serbian construction magnate Djordjo Antelj has reportedly been arrested on suspicion of embezzling some $9 million during the bankruptcy of a former state-owned construction firm.
The daily "Politika" says he was expected to be jointly tried along with 35 people charged in October 2006, accused of creating a criminal enterprise, giving and accepting bribes, and abusing their offices.
The trial is scheduled to begin on January 22.
(AFP)

2006 IN REVIEW: A photo gallery of key news events of 2006 from across RFE/RL's broadcast region. ...more