Negroponte made his assessment in written testimony submitted to the U.S. Senate Select Committee on Intelligence. He said Iran has been enjoying record oil revenues and a manageable debt.
The UN Security Council imposed sanctions on Iran over its nuclear program after its case was reported by the International Atomic Energy Agency (IAEA), which has cited obfuscation on the part of Iranian officials.
Washington has frequently alleged that Iran's nuclear program is aimed at making atomic bombs despite Tehran's denials.
Negroponte claimed that Iran's economy is vulnerable to internal pressures brought on by the policies of President Mahmud Ahmadinejad.
He said inflationary pressures, exacerbated by Ahmadinejad's economic and fiscal measures, are harming Iran's consumer and investment climates and causing employment opportunities to decline.
Negroponte is expected to take up a post as deputy to Secretary of State Condoleezza Rice, if confirmed by the Senate.
(Reuters)
Avoiding International Isolation
Avoiding International Isolation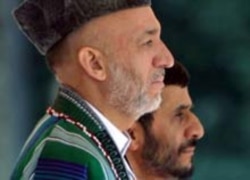 Afghan President Hamid Karzai (left) with Iranian President Mahmud Ahmadinejad in Tehran on May 27 (epa)
DIPLOMATIC OFFENSIVE:
As the United States and the European Union increase pressure on Iran regarding its nuclear program, Tehran has launched a wide-ranging and ambitious diplomatic offensive, including high-level state visits with countries including China, Indonesia, Afghanistan, Azerbaijan, and Pakistan. In May, Iranian President Mahmud Ahmadinejad participated in a high-profile
summit of the so-called Developing 8 (D8) group
of countries in Bali. Below are some links to RFE/RL's coverage of Iran's efforts to boost international support for its position.
Tehran's Shanghai Plans Seen As Bold Geopolitical Stroke
Nonaligned Movement Expresses Support For Iran
Afghan, Iranian Presidents Tout Strong Historical Ties
Iranian Foreign Minister In Pakistan For Energy Talks
Iranian Foreign Minister Visits Baghdad
ARCHIVE
To view all of RFE/RL's coverage of Iran, click here.

THE COMPLETE STORY: RFE/RL's complete coverage of controversy surrounding Iran's nuclear program.