Tony Blair has faced increased criticism at home in recent months over his government's foreign policies -- especially it's close alliance with U.S. President George W. Bush over Iraq.
There is mounting pressure on Blair to bring British troops back from Iraq and questions about whether Britain, as one opposition spokesman put it, can afford to act like a "mini-America," intervening in conflicts around the world.
Blair today made the case for Britain's continued engagement around the world, using both its military and diplomacy.
Speaking on board the navy ship "HMS Albion," anchored in Plymouth harbor, in southern England, Blair acknowledged there were calls for Britain, "with its imperial strength behind it," to retreat from an active military role and focus on so-called soft issues like peacekeeping, climate change, and global poverty.
But Blair said that would be a mistake for Britain.
"There are two types of nations similar to ours today," he said. "There are those who do war fighting and peacekeeping, and then there are those who have, effectively, except in the most exceptional circumstances, retreated to the peacekeeping task alone. Britain does both. We should stay that way."
The British prime minister said the global war against terrorism would be long and demand sacrifices.
"The battle will be long," he said. "It has taken a generation for this global movement, for the enemy to grow. It will, in all probability, take a generation to defeat."
But he said he continued to believe that robust military engagement, combined with action on issues like poverty reduction and halting environmental degradation, was the best way to maintain Britain's global influence and shape a better world.
Blair said the West's enemies saw their strategic advantage as "terrorism and time" -- and must not be allowed to gain the upper hand.
The International Coalition In Iraq
The International Coalition In Iraq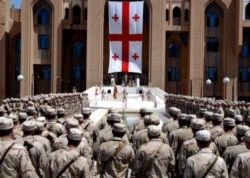 Georgian soldiers marking Georgian Independence Day in Baghdad on June 6 (epa)
COALITION MEMBERS: In addition to the United States, 28 countries are Multi-National Force-Iraq (MNF-I) contributors as of May 31, 2006: Albania, Armenia, Australia, Azerbaijan, Bosnia-Herzegovina, Bulgaria, the Czech Republic, Denmark, El Salvador, Estonia, Georgia, Italy, Japan, Kazakhstan, Latvia, Lithuania, Macedonia, Moldova, Mongolia, the Netherlands, Poland, Portugal, Romania, Singapore, Slovakia, South Korea, Ukraine, and the United Kingdom. Fiji is participating as part of the UN mission in Iraq. Hungary, Iceland, Slovenia, and Turkey are NATO countries supporting Iraqi stability operations but are not part of MNF-I.
NON-U.S. MILITARY PERSONNEL IN IRAQ: United Kingdom, 8,000 as of May 26, 2006; South Korea, 3,237 as of May 9, 2006; Italy, 2,900 as of April 27, 2006; Poland, 900 as of May 30, 2006; Australia, 900 as of March 28, 2006; Georgia, 900 as of March 24, 2006; Romania, 860 as of April 27, 2006; Japan, 600 as of May 30, 2006; Denmark, 530 as of May 23, 2006; All others, 1,140.
(Source: The Washington-based Brooking Institution's Iraq Index of June 15, 2006)


THE COMPLETE STORY: RFE/RL's complete coverage of events in Iraq and that country's ongoing transition.
RADIO FREE IRAQ: To visit the Arab-language website of RFE/RL's Radio Free Iraq, click here.