For his part, Blair said the Iraq Study Group report, which presented the conclusions of an eight-month review on December 6, offers a "strong way forward."
Speaking at a joint news conference shortly after their talks, Bush said he agreed with the conclusion of the bipartisan commission that a new diplomatic and military course is needed in Iraq.
"I believe we need a new approach," he said, adding "that's why Prime Minister Blair is here to talk about the way forward so we can achieve the objective, which is an Iraq which can govern itself, sustain itself, and defend itself, and be an ally in the war on terror."
Bush described the violence in Iraq as "unsettling" and said success in Iraq depends on victory over extremists across the broader Middle East.
The U.S. president said the United States and Britain face a "difficult moment" and that the task in Iraq is "daunting."
However, Bush rejected the idea of opening unconditional talks with Iran and Syria in an effort to enlist their support in halting the violence in Iraq.
"If people come to the table to discuss Iraq, they need to come understanding their responsibilities to not fund terrorists, to help this young democracy survive, to help with the economics of the country," Bush said. "And if people are not committed, if Syria and Iran is not committed to that concept, then they shouldn't bother to show up."
Bush instead stuck to his policy that Iran must suspend uranium enrichment and Syria must stop destabilizing the Lebanese government before the United States would consider sitting down with them at the table.
Blair announced that he will be heading to the Middle East soon to show an "even-handed" U.S. and British approach toward Israel and the Palestinians and the wider region.
On The Verge Of Civil War
On The Verge Of Civil War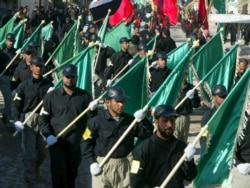 The Imam Al-Mahdi Army on parade (epa)
HAS THE CONFLICT IN IRAQ BECOME A CIVIL WAR? Many observers have concluded that the tit-for-tat sectarian violence that emerged after the February 2006 bombing of a mosque in Samarra has become a full-blown civil war.... (more)


RELATED ARTICLES
U.S. Media Starts Using 'Civil War' Label
Iraqi Prime Minister Under Fire From All Sides
U.S. Expert Discusses Prospects For Stabilization
President Says Iraq Needs Iran's Help
Saudi Arabia To Seal Off Border With Security Fence

THE COMPLETE PICTURE:
Click on the image to view RFE/RL's complete coverage of events in Iraq and that country's ongoing transition.