The bipartisan U.S. commission on December 6 called the situation in Iraq "grave and deteriorating" and urged sweeping changes.
One of the commission's recommendations is to engage with Syria and Iran as part of a "new diplomatic offensive" to help stabilize Iraq.
Iranian Foreign Minister Manuchehr Mottaki said Tehran is in a "position to help."
Syria has yet to react officially, but AFP quotes the Foreign Ministry as calling the report's findings "objective."
Iraq's Muslim Scholars Association -- a group that U.S. officials often claim has ties to insurgent groups -- describes the report as honest in its dire assessment of the situation.
A spokesman for the group, Bashar Faidi, called the report "very realistic and that is why President [George W.] Bush described it as being very harsh."
"This reality has revealed a whole set of realities," he continued. "The first truth was admitting failure: there is no victory, there is no progress, there is no way of improving the situation in Iraq."
The report also urges direct talks between Israel and Syria as part of a revived U.S. commitment to a comprehensive Arab-Israeli peace "on all fronts."
But Israeli Prime Minister Ehud Olmert today said he "sees things differently," and rejected any linkage between Iraq and the Arab-Israeli conflict. He ruled out immediate talks with Damascus, but said Israel does want to restart talks with the Palestinians.
(compiled from agency reports)

On The Verge Of Civil War
On The Verge Of Civil War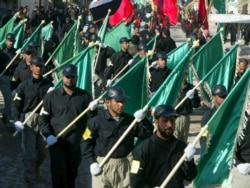 The Imam Al-Mahdi Army on parade (epa)
HAS THE CONFLICT IN IRAQ BECOME A CIVIL WAR? Many observers have concluded that the tit-for-tat sectarian violence that emerged after the February 2006 bombing of a mosque in Samarra has become a full-blown civil war.... (more)


RELATED ARTICLES
U.S. Media Starts Using 'Civil War' Label
Iraqi Prime Minister Under Fire From All Sides
U.S. Expert Discusses Prospects For Stabilization
President Says Iraq Needs Iran's Help
Saudi Arabia To Seal Off Border With Security Fence

THE COMPLETE PICTURE:
Click on the image to view RFE/RL's complete coverage of events in Iraq and that country's ongoing transition.