And he says he will call a regional conference aimed at finding ways to end the violence.
He also said Iraqi political leaders will meet in mid-December to try to reconcile rival communities and agree on what he called a "charter of honor" to end the bloodshed.
Al-Maliki said he hoped the later regional conference could be held in Iraq and that it would be based on the findings of the various delegations sent to each of Iraq's neighboring countries.
Al-Maliki's statements come one day before the bipartisan U.S. Iraq Study Group is expected to release its recommendations on changing U.S. strategy in Iraq.
Those are expected to include a suggestion to engage Iraq's neighboring nations, including U.S. adversaries Iran and Syria.
(compiled from agency reports)
Sectarian Iraq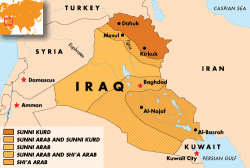 Click to enlarge the image.
SUNNI, SHI'A: Iraq is riven along sectarian lines, faults that frequently produce violent clashes and are a constant source of tension. Sectarian concerns drive much of Iraqi politics and are the main threat to the country's fragile security environment.


THE COMPLETE PICTURE: Click on the image to view RFE/RL's complete coverage of events in Iraq and that country's ongoing transition.