Furthermore, U.S. officials, who have been staunchly supportive of al-Maliki, have recently displayed signs of impatience with his inability to stem the violence.
This leaves al-Maliki caught between the of Shi'a, who want him to consolidate power; the Sunni Arabs, who demand to be treated as equals; and the U.S. administration, which wants him to take significant steps to stop the violence.
Attacked From Both Sides
Despite al-Maliki's stated intention of attempting to foster reconciliation with the marginalized Sunnis, they have long assailed him for favoring the Shi'a. Mostly, they have accused al-Maliki of essentially turning a blind eye while Shi'ite militias attack them. In addition, he has been unwilling or unable to weed out Shi'ite militiamen who have infiltrated the police, and who use the cover of the security services to carry out sectarian attacks.
At the same time, Sunnis accuse al-Maliki of coming down too hard on the insurgents, most of whom are Sunni Arabs, while virtually giving free reign to the Shi'ite militias and death squads. This gross discrepancy, Sunnis complain, dissuades many Sunni insurgents from abandoning the armed struggle and entering the political process.
On the other hand, there are those among his own Shi'ite faction that have voiced displeasure with some of positions. His most prominent critic is radical Shi'ite cleric Muqtada al-Sadr, whose political bloc on November 29 withdrew from the ruling coalition to protest al-Maliki's planned meeting with Bush. Al-Sadr had complained that U.S. forces were complicit in allowing Sunni insurgents to launch a spectacular attack on Al-Sadr City that killed over 200 people on November 23.
Should al-Sadr's bloc maintain its position, this would mean the collapse of al-Maliki's coalition. The al-Sadr bloc, with 30 seats in parliament and four cabinet positions, is widely considered the single-most-significant political figure in Iraq at the moment.
Therefore, if al-Maliki moves to isolate al-Sadr, he may win the support of some Sunni Arabs, but his government will fall. If he yields to al-Sadr, he risks further marginalizing the Sunni Arabs, who may see continuing the insurgency as their only option.
Memo Reveals U.S. Doubts
A secret White House memo that was leaked to "The New York Times" on November 29 revealed uncharacteristically harsh criticism of the Iraqi prime minister. In the November 8 memo, U.S. national security adviser Stephen Hadley expressed grave doubts about al-Maliki's ability to control the sectarian violence, implying that he was either unwilling or unable to be an effective leader.
"The reality on the streets of Baghdad suggests al-Maliki is either ignorant of what is going on, misrepresenting his intentions, or that his capabilities are not yet sufficient to turn his good intentions into action," Hadley wrote in the memo.
Most importantly, Hadley indicated that despite al-Maliki's reassurances about forming a Shi'ite, Sunni, and Kurdish partnership, his actions "suggested a campaign to consolidate Shi'ite power in Baghdad." Also, the information he receives is being "skewed by his small circle of Al-Da'wah [Party] advisers, coloring his actions and interpretations of reality."
The suggestion that al-Maliki may be trying to consolidate power for the majority Shi'a is particularly startling, because this would mean that the prime minister himself is part of the problem with respect to the sectarian conflict.
Ironically, al-Maliki, whom the Bush administration championed to replace Ibrahim al-Ja'fari in the new government following the December 2005 elections, is starting to be seen in the same light, as an ineffective and divisive leader.
Hadley said in his memo that al-Maliki should end "his political strategy" with al-Sadr and look to develop an alternative political base that included more moderate figures. The leaking of the memo could be an attempt by the U.S. administration to push al-Maliki in that direction.
Postponed Meeting Speaks Volumes
On November 29, the much-anticipated meeting between Bush and al-Maliki was delayed until November 30. U.S. officials said the delay was due to al-Maliki having already met with Jordan's King Abdullah, making a three-way meeting including Bush unnecessary. White House Communications Director Dan Bartlett said the trilateral meeting was always planned as a "social meeting" in any case.
Although, U.S. officials downplayed the postponement, the situation underscored the precarious nature of the Iraqi prime minister's political position. First, the postponement could be a reaction to the announcement by al-Sadr's movement suspending its participation in the Iraqi government.
Indeed, al-Maliki is indebted to al-Sadr and needs his support to keep his coalition government afloat. The postponement was perhaps a gesture from al-Maliki to al-Sadr, showing the importance of the Al-Sadrist bloc to the overall stability of the government. Al-Maliki did not completely acquiesce to al-Sadr, but sent a message that he needs him by giving him an opportunity to rejoin the government.
Second, the postponement could be a direct response to the leaked White House memo. Al-Maliki may feel unable to meet with Bush in the face of such embarrassing criticism by a member of Bush's staff. If he did, he may feel he would be perceived by the Iraqis as being weak and doing the bidding of a foreign power, even as it humiliated him.
Lastly, the meeting itself, aside from the delay, is a sign that al-Maliki's performance is unsatisfactory in the eyes of the U.S. administration. Although Bush has publicly expressed confidence in the Iraqi prime minister, the meeting in Jordan is clearly intended to give the impression that he will push al-Maliki to do more.
Meanwhile, the political process is in virtual paralysis. Al-Maliki's much-touted "national reconciliation" plan, intended to offer amnesty for Sunni Arab fighters in the hope that they will lay down their weapons and join the political process, has stalled. His announcement on November 12 of a major cabinet reshuffle has never materialized, and considering the huge spike in violence, a significant reorganization at this time seems highly unlikely.
There has also been little progress on long-standing promises to review the constitution, which is a major Sunni demand. Most importantly, al-Maliki has not moved to reign in the Shi'ite militias, a step U.S. officials stressed needs to happen if the sectarian violence is to be contained.
Nuri al-Maliki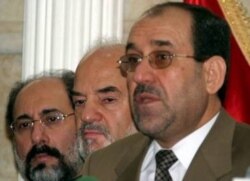 Nuri al-Maliki (epa)

NURI KAMIL AL-MALIKI (Jawad al-Maliki is a nom de guerre) was born in 1950 in the Twayrij al-Hindiyah district of Karbala.
Commonly known as Abu Isra, al-Maliki joined the Islamic Al-Da'wah Party in 1968.
He holds an M.A. in Koran and Arabic Language Studies from Salah al-Din University in Irbil.
Following a crackdown on outlawed parties by the regime of Saddam Hussien, al-Maliki fled the country in 1980, seeking asylum first in Iran and later in Syria.
While in Syria, he also published a magazine -- "Al-Mawqif" ("The Attitude") -- that became the mouthpiece of the Islamic Al-Da'wah Party.
For several years, al-Maliki served as the head of jihad and military operations for the party, subsequently becoming a member of its political bureau.
Following the liberation of Iraq, he served as deputy director of the de-Ba'athification commission established by the Coalition Provisional Authority.
In 2004, al-Maliki was elected deputy speaker of the interim National Assembly.
He played a leading role in settling the August 2004 crisis in Al-Najaf when supporters of Shi'ite cleric Muqtada al-Sadr battled coalition forces for three weeks.
In 2005, he served as chairman of the transitional National Assembly's Security and Defense Committee. He was also a member of the committe responsible for drafting Iraq's new constitution.
He has also served as a spokesman for transitional Prime Minister Ibrahim al-Ja'fari and as spokesman for the United Iraqi Alliance.
More about al-Maliki:
Premier-Designate Promises Tough Approach
Tough Challenges Face New Prime Minister


THE COMPLETE PICTURE: Click on the image to view RFE/RL's complete coverage of events in Iraq and that country's ongoing transition.