Rice met with Israeli Foreign Minister Tzipi Livni on January 13 and Palestinian President Mahmud Abbas today. Israeli Prime Minister Ehud Olmert is expected to meet Rice on January 15. Rice's weeklong tour will also take her to Egypt, Saudi Arabia, Jordan, and Kuwait. Meanwhile, Palestinian Hamas is skeptical of U.S. intentions in the region.
Arab governments want to see a bigger U.S. role in the Palestinian-Israeli peace process, but charges that the United States is taking sides in the conflict.
One of these critical voices is coming from the Gaza strip. Hamas official Fawzi Barhom said that Rice should promote unity among the Palestinian people -- not division.
"Until now, Rice came only to support one side of [the] Palestinian people against another side there," he said.
Barhom was speaking about Rice's meeting and reportedly "very fruitful" talks with Palestinian President Mahmud Abbas. Speaking in Ramallah, Rice said the United States is deeply committed to the "road map" for peace and to creating a Palestinian state.
However, Abbas opposes any talk of creating a Palestinian state with temporary borders.
Barhom says American policy in the region brings only bigger disagreements among Palestinians.
"[We] refused this strategy and all the time we have our dream to be here and to build a state for the Palestinian people with the borders and capital of Jerusalem," he said. "If this is [to be] clearly viewed to us, she has to support this dream to the Palestinian people, [and] not to [do] everything to split the Palestinian people."
The United States has listed Hamas with other organizations it says are terrorist entities. Hamas officials currently dominate the Palestinian Legislative Council, and Hamas leader Ismail Haniyeh is prime minister of the Palestinian Authority.
Abbas, leader of the rival Fatah faction, is president of the Palestinian Authority. The United States supports Abbas because he is willing to recognize Israel's right to exist, something that Hamas refuses to do.
Israeli Prime Minister Ehud Olmert is meeting Rice tomorrow. Today, he has convened his cabinet to discuss the future talks.
Rice met with Israeli Foreign Minister Tzipi Livni on January 13 in Jerusalem. Olmert said he asked Livni to provide his cabinet with a briefing about her meeting.
"I want to welcome the visit by the U.S. secretary of state. Yesterday [Secretary of State Rice] met our Foreign Minister [Tzipi Livni] and Defense Minister [Amir Peretz] and Deputy Prime Minister [Avigdor] Lieberman," he said. "In this meeting I have asked the foreign minister to give us a short review of the political issues related to the visit of [Rice] and to continue the dialogue between us...I will meet her tomorrow morning."
On January 13, Rice said she had not come to the region with a specific plan to jump-start Israeli-Palestinian peace negotiations, which collapsed in 2000, but Israeli officials said she was exploring options that could include creation of a Palestinian state with temporary borders.
RFE/RL Briefings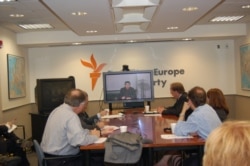 BEYOND THE HEADLINES. RFE/RL regularly hosts briefings and discussions with leading experts on our broadcast region. In 2006, some of the crucials topics were gas wars, elections in Belarus and Ukraine, Iran's nuclear program, and unrest in Central Asia....(more)
SUBSCRIBE
To receive RFE/RL briefing invitations and reports by electronic mail, send a message to
dc-response@rferl.org
with "Subscribe" in the subject line.