Relatives Of Kidnapped Israeli Soldier Seek Russia's Help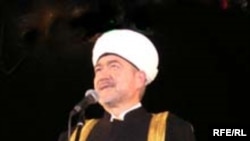 Ravil Gainutdin, head of Russia's Council of Muftis (RFE/RL) MOSCOW, October 19, 2006 (RFE/RL) -- Relatives of an Israeli soldier kidnapped in Lebanon have asked Moscow to help secure his release.
The soldier, Ehud Goldwasser, was kidnapped by the radical Lebanese group Hizballah earlier this summer.
Goldwasser's parents and wife made the plea in person in Moscow, timing their visit with that of Israeli Prime Minister Ehud Olmert.
Among those they met with was the chairman of Russia's Council of Muftis, Ravil Gainutdin.
Gainutdin subsequently told RFE/RL that the council will use its contacts in Palestine and Lebanon to try and find out if Goldwasser and other captured Israeli soldiers are alive. "I believe the captured soldiers are alive," he said.
Goldwasser's family also met with Aleksandr Troshin, the deputy speaker of the Federation Council, the upper chamber of the Russian parliament.