Ivanov, speaking while on a visit to Kyrgyzstan, said the soldiers have "rich combat experience" but recently have not had much to do in Chechnya.
"I think it's quite a reasonable step, because these soldiers are no longer involved in active fighting in the Chechen Republic," he said. "In fact, the Defense Ministry has not conducted any military operations on Chechen territory for several years now."
Russia on October 3 began airlifting a 300-strong military-engineering unit to Lebanon to rebuild bridges destroyed in fighting between Israel and Hizballah.
The soldiers will not take part in peacekeeping operations.
(ITAR-TASS, Interfax)
The Chechnya Conflict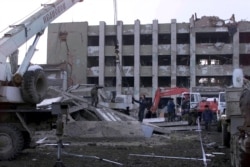 The aftermath of a December 2002 Chechen resistance attack on the main government building in Grozny (epa)


CHRONOLOGY
The
fighting in Chechnya
has raged, with short breaks, since 1994. It has brought misery, death, and destruction to the North Caucasus republic and to Russia as a whole. View an
annotated timeline
of the conflict.

ARCHIVE
RFE/RL's complete coverage of Russia's war-torn Republic of Chechnya.