Albanian President Says Elections Will Be In February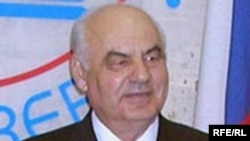 Albanian President Alfred Moisiu (file photo) (RFE/RL) January 14, 2007 -- Albanian President Alfred Moisiu said today that local elections will be held on February 18. The announcement comes one day after rival political parties reached a deal that averted a political crisis.
Albania's Electoral Commission had warned that the polls could not be held on January 20 as previously scheduled due to disputes between the government and opposition over the electoral process.
The vote is seen as a test of Albania's political maturity. NATO officials had voiced concern recently that a failure by Tirana to hold the elections as scheduled would be viewed negatively by the alliance and could complicate Albania's attempts to join NATO.
(AFP)