Bomber Strikes Kurdistan Democratic Party's Mosul Office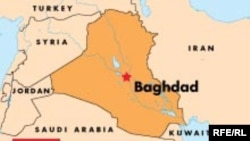 (RFE/RL) January 15, 2007 -- Police in the Iraqi city of Mosul say a suicide car bomber today killed four people and wounded 26 others in an attack against the office of the Kurdistan Democratic Party.
The party is one of the two ruling parties in Kurdish administered northern Iraq. With a mixed population of Sunni Arabs and ethnic Kurds, Mosul is a flashpoint of violence.
(Reuters)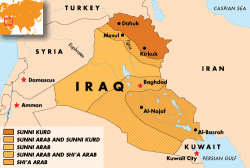 Click to enlarge the image.
SUNNI, SHI'A: Iraq is riven along sectarian lines, faults that frequently produce violent clashes and are a constant source of tension. Sectarian concerns drive much of Iraqi politics and are the main threat to the country's fragile security environment.


THE COMPLETE PICTURE: Click on the image to view RFE/RL's complete coverage of events in Iraq and that country's ongoing transition.