At Least 15 Killed In Baghdad Bombings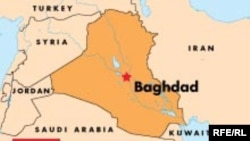 (RFE/RL) January 16, 2007 -- At least 15 people, including two police officers, were killed in two roadside-bomb attacks in Baghdad today.
The two bombs exploded in the capital's central Babel al-Shek neighborhood.
The latest violence comes a day after Iraqi police reported at least 55 deaths in bombings and shootings, mostly around Baghdad. Another 30 bodies were found, many with signs of torture, throughout the capital.
(Reuters, AFP)