In an interview with Reuters in Damascus, Talabani added that the Syrian president was supporting Iraqi stability.
"The position of President [Bashar] al-Assad is clear -- to support Iraq -- Iraqi independence, stability, and security," Talabani said. "President al-Assad responds to our requests and our intention of establishing security and stability in Iraq. If Iraqi-Syrian relations are enhanced, and if Syria leaves a positive mark on the Iraqi security and stability, all this will help us to facilitate the negotiations between Syria and the United States."
Washington has accused Syria of failing to stop militants from infiltrating from Syria to Iraq.
Syria's official media report that Talabani today held talks with leaders of Syria's ruling Ba'ath Party during which participants affirmed their aim to improve bilateral ties. They also talked about "efforts underway to bolster security and stability in Iraq."
Meanwhile, Jordan's King Abdullah said today during talks with Iraqi Vice President Tariq al-Hashimi that Iraqis should work together to restore security and stability.
A court statement quotes the king as saying the security situation in Iraq has reached a dangerous point. He said the situation demands that the Iraqi people set aside their differences and forge ahead on the path of rebuilding security and stability.
(compiled from agency reports)
On The Verge Of Civil War
On The Verge Of Civil War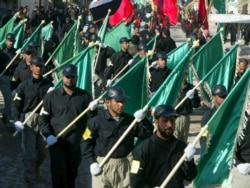 The Imam Al-Mahdi Army on parade (epa)
HAS THE CONFLICT IN IRAQ BECOME A CIVIL WAR? Many observers have concluded that the tit-for-tat sectarian violence that emerged after the February 2006 bombing of a mosque in Samarra has become a full-blown civil war.... (more)


RELATED ARTICLES
U.S. Media Starts Using 'Civil War' Label
Iraqi Prime Minister Under Fire From All Sides
U.S. Expert Discusses Prospects For Stabilization
President Says Iraq Needs Iran's Help
Saudi Arabia To Seal Off Border With Security Fence

THE COMPLETE PICTURE:
Click on the image to view RFE/RL's complete coverage of events in Iraq and that country's ongoing transition.