The relevant contract was signed on January 17 in Beijing, on the sidelines of Tajik President Imomali Rakhomov's visit to the Chinese capital.
The project will reportedly be funded through a $200 million, low-interest Chinese loan.
The Zarafshan, or Yavan, plant should produce some 600 million kilowatt hours of electricity a year.
Tajikistan is regularly hit by electricity shortages, and is pursuing greater self-sufficiency in the energy sector. It is largely dependent on Kyrgyz energy supplies that are transported through Uzbekistan.
Tajik authorities recently imposed energy restrictions on the public, although the reasons are unclear. Some reports have suggested that freezing temperatures triggered an unexpected increase in electricity consumption. Other reports said a fall in the level of the country's main water reservoir prompted the limitations.
Tajikistan was hit by severe power shortages in late November and early December.
(Asia Plus, Avesta, ferghana.ru)
China In Central Asia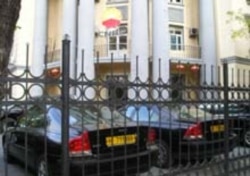 The Almaty,Kazakhstan, office of China's National Petroleum Corporation (RFE/RL)
BEIJING ON THE RISE:
The September 11, 2001, terrorist attacks against the United States prompted Washington to topple the Taliban regime in Afghanistan. At the time, many predicted the United States would gain a new foothold in Central Asia: new U.S. military bases appeared in Kyrgyzstan and Uzbekistan, U.S. foreign aid increased, and much U.S. attention was lavished on the region. Russia and China looked on warily. But the pendulum may be swinging back in Moscow's and Beijing's favor. China, especially, has expended great effort at winning friends in Central Asia and is becoming a force to be reckoned with
....(more)
RELATED ARTICLES
Turkmenistan-China Pipeline Project Has Far-Reaching Implications
Central Asia Looks To Fuel Asia's Economic Boom
The Geopolitical Game In Central Asia
ARCHIVE
To view an archive of RFE/RL's coverage of China, click here.

SUBSCRIBE
For weekly news and analysis on all five Central Asian countries by e-mail, subscribe to "RFE/RL Central Asia Report."