Chief Cabinet Secretary Yasuhisa Shiozaki said the test raised concerns in Japan's government about Japanese national security and the peaceful use of space.
"We are concerned about it firstly from the point of view of the peaceful use of space and secondly from the safety perspective," Shiozaki said.
The United States earlier said it had expressed concern to Beijing about the test, in which a ground-based, medium-range Chinese ballistic missile was said to have destroyed an aging Chinese weather satellite about 865 kilometers above Earth on January 11.
There has been no official comment on the test so far from China.
The successful test suggests that China could, in theory, shoot down satellites operated by other nations.
Reports say the Chinese test would be the first such test since the United States and Soviet Union experimented with antisatellite technology in the 1980s.
(compiled from agency reports)
The Proliferation Threat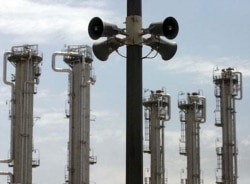 The Arak heavy-water plant in central Iran (Fars)


BENDING THE RULES. Henry Sokolski, executive director of the Nonproliferation Policy Education Center, told an RFE/RL-Radio Free Asia briefing on January 9 that the West is hamstrung in dealing with Iran and North Korea because of the way it has interpreted the international nonproliferation regime to benefit friendly countries like India and Japan.
LISTEN
Listen to the entire briefing (about 90 minutes):

Real Audio
Windows Media
RELATED ARTICLES
Iran, North Korea Present Proliferation Challenges
Tehran Watches As North Korea Tests Global Resolve
Rogue Nuclear Programs Threaten New Arms Race
Why Shouldn't Pyongyang Join Nuclear Club?