Turkish Report Says Teen Admits Killing Journalist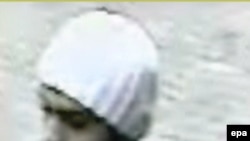 A security-camera picture of the suspect (epa) January 21, 2007 -- Turkey's semiofficial Anatolia news agency has quoted a chief prosecutor as saying a teenager detained over the slaying of ethnic Armenian journalist Hrant Dink has confessed to the killing.
Police captured the suspect -- identified as Ogun Samast -- in the Black Sea city of Samsun late on January 20. Dink was gunned down on January 19 outside his newspaper's office in Istanbul.

Chief prosecutor Ahmet Cokcinar said Samast, 17, confessed to killing Dink during initial questioning in Samsun.
CNN Turk television reported that Samast expressed no remorse for killing Dink outside his office in Istanbul.
The suspect's father was reported to have identified him to police after authorities released security-camera pictures of him on January 20.

Turkish Prime Minister Recep Tayyip Erdogan said it was too early to say whether the suspect had links to any organizations. The prime minister said the investigation is continuing.

Dink was known for publicly calling the mass killing of Armenians by Turks nearly a century ago a "genocide" -- a description that angered Turkish nationalists.

(AP, AFP/Reuters)