A Turkish citizen of Armenian descent, Dink was shot dead today while leaving the Istanbul offices of "Agos," the bilingual weekly newspaper he edited.
Dink often angered Turkish nationalists for criticizing as genocide the mass killings of Armenians by Turks in the early 20th century. Such criticism is a crime in Turkey, and Dink faced numerous court cases for his outspokenness.
"He's actually the first [Turkish] Armenian who went public and said that what happened in 1915 in the Ottoman Empire was genocide," says Hrair Tamrazian, director of RFE/RL's Armenian Service, who followed Dink's career closely. "Actually, he was the first Turkish-Armenian who said that publicly."
Turkish broadcaster NTV said Dink was shot three times in the neck and police were looking for a man between the ages of 18 or 19.
His killing appears certain to raise political tensions.
Turkish politicians of all parties are courting the nationalist vote ahead of presidential elections in May and parliamentary polls due by November.
In May, Turkey's appeals court upheld a six-month suspended prison sentence against Dink for referring in an article to an Armenian nationalist idea of ethnic purity without Turkish blood.
"The decision of the appeals court was not a judicial but a political one," Dink told RFE/RL at the time. "I'll continue my fight by all possible means at all possible levels of courts in Turkey, and up to the European Court. And if I am unable to defend my rights, I'll leave this country with my family."
The court had said Dink's comments went against an article of Turkey's revised Penal Code, which lets prosecutors pursue cases against writers and scholars for "insulting Turkish identity."
The ruling was also sharply criticized by the European Union, which Turkey wants to join.
International Reaction
EU Enlargement Commissioner Olli Rehn spoke of his shock at the killing of Dink. "I am deeply shocked and saddened by this brutal act of violence," he said, describing Dink as a "respected intellectual who defended his views with conviction and who campaigned for freedom of expression and an open society in [Turkey.]"

Armenian Foreign Minister Vartan Oskanian also condemned the killing, saying Dink had lived his life in the belief that there could be understanding, dialogue, and peace among peoples.

The U.S. State Department expressed concern over Dink's shooting, while Miklos Haraszti, the Organization for Security and Cooperation in Europe (OSCE) representative for media freedom, condemned it as a cowardly act resulting in tragic loss.

Examining History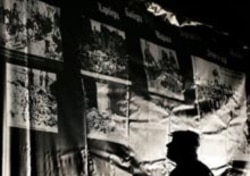 CALL IT GENOCIDE? Questions surrounding the mass killings of Armenians at the beginning of the last century continue to dominate relations between Armenia and Turkey. In April, Ankara proposed conducting a joint Armenian-Turkish investigation into the mass killings and deportations of Armenians during World War I.
Turkish leaders suggested that the two countries set up a joint commission of historians to determine whether the massacres carried out between 1915 and 1917 constituted genocide. Armenia, however, insisted it would continue to seek international recognition and condemnation of what it says was a deliberate attempt at exterminating an entire people....(more)
See also:
Armenians Mark 90th Anniversary Of Start Of Massacres
Armenia: Tragedy Remains On Europe's Political Map
ARCHIVE: For a complete archive of RFE/RL's coverage of Armenia, click here.