Armenia: French Lawmakers Debate Sensitive Genocide Bill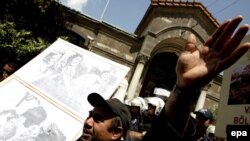 Turkish protestors shout anti-French slogans outside the French consulate during a demonstration in Istanbul (epa) PRAGUE, May 18, 2006 (RFE/RL) -- The French lower house of parliament, or National Assembly, today started debating a controversial draft bill that would make it a crime to deny that the mass deportations and slaughtering of hundreds of thousands of Armenian subjects of the Ottoman Empire during World War I was genocide.
In the view of its authors, the proposed one-article draft bill is designed to complement a 2001 law that recognizes the 1915-17 mass killings as genocide.
The single-sentence law reads that "France publicly recognizes the Armenian genocide of 1915." French parliamentarians at the time noted that the text was largely symbolic, since it did not allow for the prosecution of those who deny the 1915 massacre was genocide.
The authors of the new draft bill seek to rectify that omission.
If approved, the legislation could make contesting the veracity of Armenian genocide claims punishable by five years in jail, or a fine of 45,000 euros (approximately $58,000).
France already has a law making it a crime to deny the Holocaust. That law, passed in 1972, was later expanded to cover other crimes against humanity as defined at the end of World War II.
The present draft bill was co-authored by a group of Socialist legislators that includes Christophe Masse and Didier Migaud.
Addressing the assembly, Masse said criminalizing the denial of the Armenian genocide would make victims of the Ottoman-era killings and the Holocaust equal before the law: "By adopting this bill, the National Assembly would confirm its commitment to justice and democracy. By making this strong gesture, it will help ease the unhealthy rivalry that exists among victims of [various] genocides and that is fueled by their inequality before the law."
Migaud, in turn, argued that criminalizing Armenian genocide denial claims is a question of ethics.
"After we recognized the [Armenian] genocide, could we possibly accept that its denial goes unpunished on our territory? By accepting that, wouldn't we relinquish our obligation to remember? Wouldn't we be a party to censorship? Wouldn't we, more simply, accept an official history that was written by those who refuse to recognize, not merely a historical reality, but also a [historical] truth?" Migaud said.
Historical Opinion
Most Western historians agree that the death of at least 1 million Ottoman Armenians in 1915 and the years that followed was orchestrated by the war-time Young Turk government and was the result of a genocidal policy.
Although a number of Young Turk officials were tried by Ottoman courts after the 1918 armistice for their participation in the Armenian massacres, modern Turkey's successive governments have persistently denied all genocide claims brought against their Ottoman predecessors.
Turkish historians and officials argue that the 1915-17 Armenian massacres were the result of war operations and civil strife, not of a deliberate extermination policy. They also claim much fewer than 1 million Armenians were killed.
The issue remains a taboo in today's Turkey -- and there, it is those who back the genocide claims who face criminal persecution.
EU And Turkey
Many EU politicians insist that Turkey must recognize the Armenian genocide before it can join the European Union.
As French parliamentarian Migaud put it, Ankara must follow in the tracks of other states and reconcile with its past. Yet, he said that does not mean Ankara should be held responsible for massacres that took place 90 years ago.
"Does his draft law mean that we intend to hold Turkey responsible for the [Armenian] genocide? Certainly not. This is not a judgment on our part, but we would like to tell the Turks that a nation, a country does not become weaker when it recognizes its past," Migaud said.
Turkey has warned that, if adopted, the proposed bill would harm its relations with France. Ankara voiced similar threats when the National Assembly debated its first Armenian genocide bill five years ago. However, the economic sanctions that followed that French vote were soon lifted and had no lasting impact on bilateral ties.
Addressing the French parliament today, Foreign Minister Philippe Douste-Blazy, however, argued that making the denial of the Armenian genocide a crime would harm France's interests.
"If the [draft] presented to you today were to be adopted, it would be considered an unfriendly gesture by a vast majority of the Turkish people. This would inevitably have serious political consequences and weaken our influence not only in Turkey itself but also beyond, in the whole region," Douste-Blazy said.
Douste-Blazy further argued that the legislation would -- if passed -- hamper the normalization of ties between Turkey and Armenia and even hinder international efforts to find a peaceful resolution of the 18-year-old Nagorno-Karabakh conflict.
France co-chairs the Minsk Group of nations that has been mandated by the OSCE to help Armenians and Azeris -- who are Turkey's ethnic kin -- find a diplomatic solution to their territorial dispute.
Referring to an earlier controversial parliamentary debate on France's colonial past, Douste-Blazy also urged legislators to not interfere with the work of historians: "You then agreed that it was up to historians -- and historians alone -- to establish the truth on past events and shape our collective memory. It seems to me that by attempting to back away from this rule of common sense this assembly again runs the risk of seeing the legislator interfere in the writing of national history."
Douste-Blazy's plea prompted a swift response from the floor.
Pro-government parliamentarian Roland Blum, who supports the draft bill, objected that neither Turkish government officials nor Turkish historians are ready to come to terms with their past.
"Turkey has not relinquished its nationalism. It has not relinquished Turkism, which served as an ideology for [the 1915] ethnic cleansing. It has no plans to recognize the Armenian genocide, quite the contrary. In 2005, the Faculty of Medicine in Istanbul has asked [Germany] permission to repatriate the remains of Dr. Behaeddin Sakir, the ideologue of the genocide, so that they be officially reburied [in Turkey], probably next to Talat Pasha, the man who organized the [Armenian] genocide and who has his own mausoleum [there]," Blum said.
Blum was the last lawmaker to take the floor.
Parliament Speaker Jean-Louis Debre, who opposes the draft, indefinitely adjourned the debate after only 45 minutes of discussion. The next hearings will reportedly not take place until this autumn at the earliest.