Exit polls suggest that the ultranationalist Serb Radical Party (SRS) polled about 28.5 percent, followed by the pro-Western Democratic Party of President Boris Tadic with some 23 percent.
Prime Minister Vojislav Kostunica's Democratic Party of Serbia appeared to be in third place, a position that many observers expect to offer it huge leverage in helping form the next government.
Tomislav Nikolic, head of SRS, told a news conference late on January 21 that his party had won despite powerful opponents.
"Despite a terrible campaign that many media waged against us, and despite having the president's party and the prime minister's party as opponents, as promised, the Serbian Radical Party won these parliamentary elections," Nikolic said.
But President Tadic suggested that "pro-European" parties would be able to form the next government.
"We have a two-thirds majority in our parliament," Tadic said. "I think that the democratic parties -- pro-European parties -- are forming a huge majority in our parliament and [forming a pro-European government] is really possible. We have a strong majority. If we make a strong decision, if we share values [and] our goals, we are going to [form a government]."
"Now, as is common practice, we have talks on forming the government ahead of us," Democratic Party head Kostunica said. "We are open, [and] we expect other parties to be responsible. Constructive talks can start once we have final [election] results."
Kosovo Plan Expected
The vote comes days before a UN envoy is scheduled to unveil his plan for the future of Serbia's mainly ethnic Albanian province of Kosovo.
The envoy, Martti Ahtisaari, is expected to recommend limited independence for Kosovo, which has been under UN administration since 1999.
No major Serbian party concedes the loss of Kosovo.
Tadic has come closet to telling Serbs it might be a fact the country has to come to terms with, while the Radicals and Kostunica vow no surrender of the province.
(compiled from agency reports)
The Kremlin Looks At Kosovo...And Beyond
The Kremlin Looks At Kosovo...And Beyond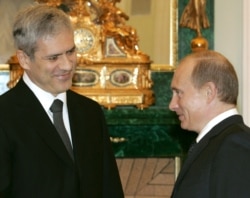 Russian President Vladimir Putin (right) greets Serbian President Boris Tadic in the Kremlin in November 2005 (TASS)
WILL THE KREMLIN BACK INDEPENDENCE? As the drive for independence grows in the Serbian province of Kosovo, the international community is speculating on how Russia, a veto-wielding member of the UN Security Council, will act. On September 22, Nicholas Whyte, director of the International Crisis Group's Europe Program, gave a briefing on the subject at RFE/RL's Washington, D.C., office. He speculated on what the Kremlin's "price" might be for agreeing to Kosovo's separation from Serbia.
LISTEN
Listen to the entire briefing (about 45 minutes):
Real Audio
Windows Media
RELATED ARTICLES
Referendums Seen As Kremlin's Master Plan
Independence Votes Popular In The Kremlin
Putin Warns Against Montenegro Model
How Does Moscow View Frozen CIS Conflicts?
Putin Calls For 'Universal Principles' To Settle Frozen Conflicts
ARCHIVE
RFE/RL's coverage of
Kosovo
and
Russia
.
SUBSCRIBE
For news and analysis on Russia by e-mail,
subscribe to "RFE/RL Russia Report."