Moratinos said his priorities for 2007 were the fight against terrorism, maintaining a presence in Kosovo as it seeks independence, and land and water management.
Relations between member states -- which comprise European countries, former Soviet states, and the United States and Canada -- are at a low ebb.
Divisions
In recent months, Russia has become embroiled in trade and energy disputes with its neighbors. A spy scandal between Russia and Georgia last fall snowballed into expulsions of Georgians from Russia, economic sanctions, and bellicose rhetoric from both sides.
More recently, Belarus and Russia have exchanged blows over the price Minsk will pay for gas.
Speaking to RFE/RL on the sidelines of the meeting in Vienna, Moratinos said he wanted to foster unity among OSCE member countries.
"We have that sense of belonging to the organization, what I call this 'esprit de famille' [family spirit] among the OSCE, and that has been lost and we want to recuperate it," Moratinos said. "And that is why I have to stress the need to work to overcome division, which appears to be in place once again."
Moratinos said that even though participating states shared common values, they were nevertheless different from each other.
Frozen Conflicts
Regarding frozen conflicts in the CIS, those differences amount to a dangerous force for instability.
Moratinos's predecessor, Karel De Gucht, made a priority of finding a resolution to the frozen conflicts -- in Transdniester, Abkhazia, South Ossetia, and Nagorno-Karabakh -- during his tenure in 2006.
Expectations were high, especially regarding a settlement between Armenia and Azerbaijan over the disputed territory of Nagorno-Karabakh.
The presidents and foreign ministers of both countries met on several occasions; there was talk of a framework peace agreement. But in the end, a settlement remained elusive.
While the issue remains important in 2007, Moratinos said there was no "magic wand" to solve the frozen conflicts.
"Well, frozen conflicts of course are still a priority for the Spanish chairmanship. But I have to be very clear: we are very pragmatic, we don't want to create great expectations, we'll be a very serious facilitator, but we don't want to create an impression that the new Spanish presidency will be able to solve all these long-standing frozen conflicts," Moratinos said.
The parties themselves are the ones who have to deliver, Moratinos said, and be able to make a compromise.
Kazakh Bid
Moratinos also said that toward the end of the year he would announce future chairmanships of the OSCE.
That will be of interest to Kazakhstan, which is seeking to take over the OSCE's resolving chairmanship in 2009.
The United States has criticized Kazakhstan's bid, highlighting the country's poor record on democracy and human rights.
But proponents of Kazakhstan's effort -- which include new chairman Spain -- say that having a country from the former Soviet Union as chairman could go some way in bridging the organization's divides.
Kazakhstan And The OSCE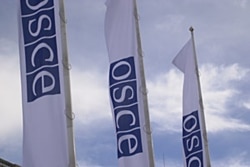 READY TO LEAD THE OSCE? Kazakhstan has been lobbying to be granted the rotating chair of the Organization for Security and Cooperation in Europe (OSCE) in 2009. In March, current OSCE head Karel De Gucht visited the country and said Kazakhstan is better prepared to head the OSCE than any other Central Asian country. But concerns about the state of democracy, the media, and ethnic relations make Kazakhstan's bid extremely controversial....(more)
RELATED ARTICLES
OSCE Says Kazakh Presidential Vote Flawed
OSCE Says Kazakh Obligations Not Met Ahead Of Vote
OSCE Offers Amendments To Kazakhstan's Draft Media Law
ARCHIVE
RFE/RL's
coverage of Kazakhstan
. The website of
RFE/RL's Kazakh Service
.