EU Spotlights Ukraine's European 'Aspirations'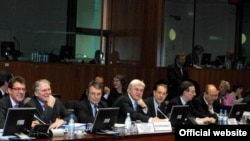 EU foreign ministers in Brussels today (official site) January 22, 2007 -- The European Union today discussed Ukraine's hopes of joining the 27-member bloc, and said it wants closer relations with Kyiv as it makes progress in consolidating democracy in the country.
EU foreign ministers released a statement acknowledging Ukraine's European aspirations. But no dates were set for possible EU membership.
Ministers also said the EU wants to start negotiating a new cooperation deal with Ukraine that would underpin the bloc's commitment to support political and economic reforms in the country.
EU External Relations Commissioner Benita Ferrero-Waldner said the bloc wants "to send a signal to Ukraine that we want to deepen our relations."
The EU ministers started a two-day meeting in Brussels today. Other items on the agenda are the January 21 elections in Serbia and Iran's nuclear program.
(dpa)