Leaders of the New York-based Committee to Protect Journalists (CPJ) said they were told of the investigation by a Russian Foreign Ministry official at a meeting in Moscow on January 22.
"We learned from [a Russian Foreign Ministry spokesman] that the Prosecutor-General's Office recently informed the Foreign Ministry that it has opened a criminal investigation into several police officials in Chechnya who are suspected of having murdered Anna Politkovskaya because of the report she was working on at the time of her death about torture in the southern republic," CPJ Executive Director Joel Simon said today.
A spokeswoman for the Prosecutor-General's Office said prosecutors were pursuing a single investigation into Politkovskaya's murder and that she was unaware of a separate investigation involving Chechen police.
Politkovskaya, who exposed rights abuses in Chechnya, was gunned down in Moscow in October.
(Interfax, AP)
Remembering Anna Politkovskaya
Remembering Anna Politkovskaya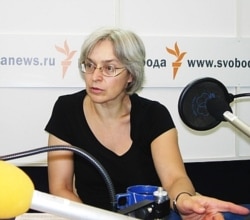 Anna Politkovskaya at RFE/RL in July 2006 (RFE/RL)
A BRAVE VOICE SILENCED. Prominent Russian journalist Anna Politkovskaya was killed on October 7 in her Moscow apartment building. An outspoken critic of the Kremlin, she was best-known for her reporting on the conflict in Chechnya. Former Soviet President Gorbachev called her slaying "a true political homicide, a vendetta."
Chechens Mourn Politkovskaya As 'Last Hope'
Politkovskaya Investigating Chechen Torture At Time Of Death
Two Journalists Die In Contract Killings A Year
SUBSCRIBE
For regular news and analysis on media issues throughout RFE/RL's broadcast area by e-mail,
subscribe to "RFE/RL Media Matters."