Russia's 'Novaya gazeta' Wins International Prize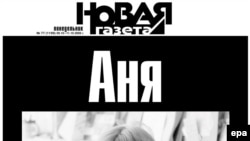 The front page of "Novaya Gazeta" the day after Anna Politkovskaya was killed (epa) December 13, 2006 (RFE/RL) -- Russia's independent "Novaya gazeta" newspaper has been awarded the Reporters Without Borders-Fondation de France prize.
Reporters Without Borders (RSF), a media watchdog, said the bi-weekly "Novaya gazeta" exemplifies "the struggle for the right to inform the public and to be informed."
"Novaya gazeta" is the newspaper for which Anna Politkovskaya was working when she was murdered in Moscow in October. Two other "Novaya gazeta" journalists, Igor Domnikov and Yury Shchekochikhin, have been murdered since the paper's founding in 1993.
Elsa Vidal, the head of the Europe and former Soviet Union desk at RSF, said the watchdog decided to give the award to "Novaya gazeta" "to celebrate its huge commitment toward press freedom and all the sacrifices its staff have made to the work of journalists."
Vidal says that she expects the media situation to worsen in Russia ahead of the 2008 presidential election.
The annual prize seeks to draw public attention to attacks on media freedom.