Gorbachev Buys Stake In Independent Russian Paper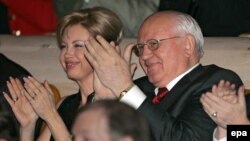 Mikhail Gorbachev at a concert to mark his 75th birthday on February 28 (epa) June 6, 2006 -- The former Soviet leader Mikhail Gorbachev and a partner have bought a 49 percent stake in the independent Russian newspaper "Novaya Gazeta."
Gorbachev himself announced the deal today at a meeting of world newspaper editors in Moscow.
The editor in chief of "Novaya Gazeta" said Gorbachev's involvement will enable the investigative newspaper to maintain its editorial independence.
The remaining 51 percent of shares are owned by newspaper staff.
(Ekho Moskvy, Interfax)