PRAGUE, April 24, 2006 (RFE/RL) -- The Chornobyl blast proved to be a crucial test for the Soviet government's new policy of glasnost, or openness -- one that it failed in horrific fashion.

Citizens were denied accurate information on the danger and scale of what happened not only in the crucial first days and weeks after the accident, but also in subsequent years.

For example, it emerged only in 1989 that nearly one-quarter of Belarus, which absorbed some 60 percent of the Chornobyl fallout, was significantly contaminated.
Belarusian "authorities show no consideration whatsoever for people, hide all problems, and broadcast mendacious propaganda, while the population is shrinking." -- Vikto Ivashkevich, Belarusian Popular Front
Former Ukrainian diplomat Yuriy Shcherbak wrote a documentary book on the Chornobyl accident as early as 1987, in an attempt to provide readers with more insight than they could get from the government. Shcherbak told RFE/RL in a recent interview that the suppression of accurate information about Chornobyl by the Gorbachev-era Soviet government helped increase the divide between the state and Soviet society.

"The mendacious propaganda, the lack of reliable information [about Chornobyl] had affected millions of people, particularly in Ukraine, to such an extent that those people lost the rest of their faith in what Gorbachev was saying about perestroika, glasnost, and so on," Shcherbak said.

On the Ukrainian political scene, the catastrophe also launched a new type of realpolitik. Shcherbak asserts that the Chornobyl catastrophe was largely responsible for the readiness with which the Ukrainian parliament signed on to the Nuclear Nonproliferation Treaty after gaining independence. The decision effectively obliged the fledgling state to destroy or return to Russia all nuclear weapons on its territory.

Shcherbak believes that since the closure of the plant's last reactor in 2000, Chornobyl has ceased to be a major political issue in Ukraine, but he does believe it will continue to impact government decisions in the nuclear-energy sphere. He said Ukraine should never forget the potential hazards of operating its 15 nuclear reactors at four power plants.

"We should proceed from the premise that we will have to live side by side with risk. We are taking a risk. And we should be taking a reasonable risk, not the one that might lead, God forbid, to a new Chornobyl-type catastrophe. We should enhance the safety of reactors," Shcherbak said.

Belarus Mired In Soviet Thinking

Belarus does not have any nuclear power plants and is not planning to build any in the near future. The Chornobyl aftermath seems to persist in the country not only as a grave environmental issue but also a political one.
Viktor Ivashkevich, deputy head of the opposition Belarusian Popular Front, has argued that the authoritarian regime of President Alyaksandr Lukashenka treats Chornobyl-related issues in pretty much the same way the Soviet-era government did 20 years ago, that the "authorities show no consideration whatsoever for people, hide all problems, and broadcast mendacious propaganda, while the population is shrinking."
Belarus adopted a long-term program for dealing with the Chornobyl consequences in 1990. Ivashkevich said the Lukashenka government has backed down on some important measures envisioned by that program.
In particular, Ivashkevich said the government abolished checks for the radioactivity of food products at most shops and markets, except for some major food retailers. But he doesn't believe the checks stopped because there was nothing to find.
"Food products are grown in areas where radioactivity exceeds 15 curies per square kilometer. Then these contaminated products are mixed with pure ones to obtain products of medium purity, and subsequently they are shipped to all of Belarus," he noted.
Since 1989, the Belarusian opposition has managed to organize a "Chornobyl Way" march almost every year. Participants march to commemorate the Chornobyl anniversary and raise public awareness about unresolved problems related to the disaster. Although many of these marches have been dispersed or otherwise thwarted by police, another Chornobyl Way march is expected in Minsk this year on 26 April.
Social, Environmental Impact In Russia
Vladimir Chuprov, a chief nuclear-energy expert at Greenpeace Russia, believes the lasting consequences of Chornobyl in Russia are evident mainly in the environmental and social spheres.
Chuprov said recent demonstrations in Russia organized by people concerned with the environmental situation of Lake Baikal are a result of the higher environmental awareness in the country following the Chornobyl disaster. He noted that the protests over the state of the lake could also have political consequences.
"People come to demonstrate not with economic demands, but ecological ones," he said. "It is an indicator that the population is beginning to amass discontent that may result in political passions."
Popular discontent and ecological demands already led to political demonstrations in Kazakhstan in 1986, in Armenia in 1988, and in Georgia in 1989. A new wave of demonstrations organized around the same lines could have resonance in Belarus, Ukraine, and Russia.
(Irena Chalupa from RFE/RL's Ukrainian Service contributed to this report.)
Chornobyl 20 Years After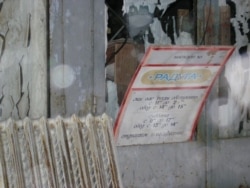 A sign in a store window in the abandoned town of Prypyat, Ukraine (RFE/RL)

A CONTINUING CATASTROPHE: Twenty years ago in the early hours of April 26, a chain of events began in Soviet Ukraine that was to unleash a catastrophe of unprecedented scale. At 1:23 a.m., a massive surge of power in Reactor No. 4 at the Chornobyl nuclear power station caused an explosion that lifted the 1,000-ton lid off the reactor's core. Within hours, a column of radioactive material some 1 kilometer high was drifting northwest across Europe that would leave traces across the Northern Hemisphere.
In Belarus and Ukraine, the accident left huge swathes of land deserted and radioactive. An area of 30 kilometers around Chornobyl was evacuated and is still abandoned. Hundreds of thousands of people, many of them volunteers, fought courageously to contain the damage.
Twenty years later, what lessons have been learned from the disaster, and what is being done to address the damage it did to the region? In a series of articles, RFE/RL looks at these and other issues on the 20th anniversary of the Chornobyl nuclear disaster.
Read The Stories:
What Lessons Have Been Learned?
Liquidators Recall Disaster, Speak Of Life After
Photographers Aim To Keep Memory Of Disaster Alive
A Nuclear Nightmare Becomes A Political Disaster
Greenpeace, Others Challenge IAEA Report On Disaster Consequences
The Catastrophe's Political Fallout
LOCAL COVERAGE: Click here to see RFE/RL's coverage of Chornobyl in Russian, Ukrainian, or Belarusian.

Click on the icon to view the slideshow