The authorities have sanctioned a march on April 25, but changed its route away from the city center, the site of unprecedented protests against President Alyaksandr Lukashenka's reelection last month.
Lukashenka himself today traveled to a region of Belarus close to the Ukrainian border contaminated by radiation released during the disaster.
Belarus lay in the immediate path of the radioactive cloud caused by the April 26, 1986 disaster in neighboring Ukraine.
(belta.by)
Chornobyl Contamination Zones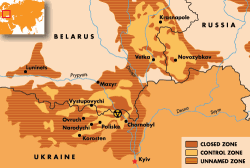 Click on the map to enlarge.

THE DIRTY ZONE: Within a month of the April 26, 1986, Chornobyl explosion, Soviet authorities had evacuated almost 120,000 people from a zone within 30 kilometers of the plant. However, contamination by radioactive isotopes, particularly cesium-137, which has a half-life of 30 years, spread over a much wider area.
The map above shows the four areas of cesium-137 contamination across Belarus, Russia, and Ukraine. The Closed Zone shows contamination more than 40 curies per square kilometer, the Control Zone includes the Permanent Control Zone (15-40 curies per square kilometer) and Periodic Control Zone (5-15 curies per square kilometer), and the Unnamed Zone shows contamination of 1-15 curies per square kilometer.

Click on the icon to view the slideshow