He said the resources needed to overcome the consequences of a catastrophe of such magnitude were far beyond the means of any single country. He called on the European Union and the United Nations to jointly organize the donors' conference.
Yushchenko was addressing a conference on April 24, opening several days of events to mark the 20th anniversary of the world's worst nuclear accident.
Yuschenko said Ukraine has already spent $15 billion on clean-up and expects total expenses to reach $170 billion by 2015.
He also said the April 26, 1986, tragedy had been the catalyst in a national rebirth in Ukraine.
(compiled from agency reports)

Chornobyl 20 Years After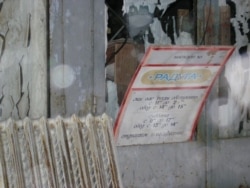 A sign in a store window in the abandoned town of Prypyat, Ukraine (RFE/RL)

A CONTINUING CATASTROPHE: Twenty years ago in the early hours of April 26, a chain of events began in Soviet Ukraine that was to unleash a catastrophe of unprecedented scale. At 1:23 a.m., a massive surge of power in Reactor No. 4 at the Chornobyl nuclear power station caused an explosion that lifted the 1,000-ton lid off the reactor's core. Within hours, a column of radioactive material some 1 kilometer high was drifting northwest across Europe that would leave traces across the Northern Hemisphere.
In Belarus and Ukraine, the accident left huge swathes of land deserted and radioactive. An area of 30 kilometers around Chornobyl was evacuated and is still abandoned. Hundreds of thousands of people, many of them volunteers, fought courageously to contain the damage.
Twenty years later, what lessons have been learned from the disaster, and what is being done to address the damage it did to the region? In a series of articles, RFE/RL looks at these and other issues on the 20th anniversary of the Chornobyl nuclear disaster.
Read The Stories:
What Lessons Have Been Learned?
Liquidators Recall Disaster, Speak Of Life After
Photographers Aim To Keep Memory Of Disaster Alive
A Nuclear Nightmare Becomes A Political Disaster
Greenpeace, Others Challenge IAEA Report On Disaster Consequences
The Catastrophe's Political Fallout
LOCAL COVERAGE: Click here to see RFE/RL's coverage of Chornobyl in Russian, Ukrainian, or Belarusian.

Click on the icon to view the slideshow