Gorbachev Honored As 'A Friend Of Germany'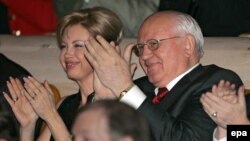 Mikhail Gorbachev at a concert given in his honor in Moscow on February 28 (epa) March 5, 2006 -- Former Soviet leader Mikhail Gorbachev has been hailed as a friend of Germany at a special ceremony on March 5 to mark his 75th birthday.
The German Minister of State for Culture, Bernd Neumann, praised Gorbachev for his role in bringing about German unity in a speech in the port city of Bremen. Neumann said without Gorbachev's readiness for change, German unification would not have been possible.
Gorbachev, who turned 75 on March 2, replied by calling on Germany to help Russia, saying cooperation between the two was indispensable for a stable Europe.
Gorbachev is celebrated as a hero in Germany for helping to bring about the country's unification in October 1990.
(dpa)