Nicola Duckworth, Europe and Central Asia Program director at the international rights watchdog said the January 23 Supreme Court decision was a "double blow" -- to freedom of expression and to civil society.
He said the decision sent a "chilling signal" that other NGOs could face the same fate.
The Nizhny Novgorod-based group which monitored the human rights situation in Chechnya was closed down in October on extremism charges. Its executive director, Stanislav Dmitrievsky, was convicted earlier on charges of inciting ethnic hatred for publishing articles by Chechen separatist leaders.
After the Supreme Court announced its decision, Dmitrievsky told Amnesty International the group would take its case to the European Court of Human Rights in Strasbourg.
The Chechnya Conflict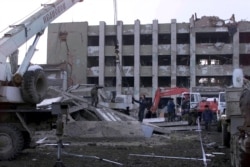 The aftermath of a December 2002 Chechen resistance attack on the main government building in Grozny (epa)


CHRONOLOGY
The
fighting in Chechnya
has raged, with short breaks, since 1994. It has brought misery, death, and destruction to the North Caucasus republic and to Russia as a whole. View an
annotated timeline
of the conflict.

ARCHIVE
RFE/RL's complete coverage of Russia's war-torn Republic of Chechnya.