Georgia Says Russian Arrested For Uranium Smuggling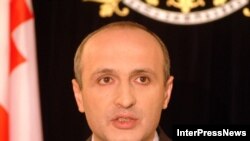 Interior Minister Vano Merabishvili (file photo) (InterPressNews) January 25, 2007 -- Georgia's interior minister says Georgian authorities, aided by the CIA, arrested a Russian man trying to sell a small amount of weapons-grade uranium during a sting operation last year.
The operation has not been previously publicized.
Vano Merabishvili, who was visiting the U.S. this week, was quoted by U.S. media as saying he was revealing the story out of frustration with Russia's lack of cooperation in the case.
According to Merabishvili, a Georgian undercover agent in South Ossetia, posing as a rich foreign buyer, made contact with the Russian seller in North Ossetia. The Russian was arrested, along with three Georgian accomplices, when he brought some 100 grams of weapons-grade uranium to Tbilisi.
Merabishvili was quoted as saying the uranium seized had been tested in the United States to determine its level of enrichment.
U.S. media reports said the UN's International Atomic Energy Agency (IAEA) was aware of the Tbilisi seizure.
There has been no comment yet from Russian authorities.
(AP, "New York Times," civil.ge, Rustavi 2)