But few choose as difficult a path as Dzhanar-Aliev Magomed-Ali, who lives in Urus-Martan, 15 kilometers west of Grozny.
"I left on November 8," he told RFE/RL's North Caucasus Service . "On December 25, I was at the hajj. I left on January 2, and on January 9 I returned to Urus-Martan. The entire trip covered 11,838 kilometers."
It's an enormous distance, from Chechnya through Daghestan, Azerbaijan, Iran, Iraq, and Syria, nearly all of which was traveled on a rusting purple bicycle.
A Mother's Wish
Magomed-Ali had never performed the hajj, and didn't think he had the means. But then, he says, his late mother spoke to him in a dream:
"Two years ago, my mother willed me to do the hajj on a bicycle. I asked: 'How am I going to go on a bike? I don't have any money. I need the means. How can I get there?' She answered that it was the will of the Almighty that she would be watching over me, invisibly, during the trip. As they say, it was God's will," he says.
"So I did what she asked and I left. My older brother, even though he's a man, was sobbing uncontrollably. He said: 'I've done the hajj three times. I know the way very well. How are you going to make it there?' Then he said he had gotten a gravestone for me, just in case, and that he was expecting to use it. That's how my brother saw me off. No one in the family was very happy about it. But we all forgave each other in the end, and I set out on the road."
Official Barriers
Traveling through Chechnya, where Russia continues to wage its antiseparatist campaign and violence and disappearances have become an everyday occurrence, is already risky enough.
But other difficulties lay ahead, most notably in Iraq, where U.S. soldiers almost put an end to his pilgrimage because he had failed to obtain an Iraqi entry visa.
In fact, Magomed-Ali made the entire journey with virtually no documents. It was a problem he had hoped to avoid.
"I spent three months on the steps of the Chechen government building, asking for a passport," he says. "But both President Alu Alkhanov and [Prime Minister] Ramzan Kadyrov, as well as others, turned their back on me -- as if they were saying: 'There's no need to let him go. He'll just disappoint the government and the people.' I even asked the muftiyat [Islamic affairs board] for help. But I got no response whatsoever, so I left without any documents."
Magomed-Ali describes the journey as "very tough." On his return leg, however, he got some relief from the rigors of the road. He was able to hitch a ride on a bus from Azerbaijan back to Chechnya.
Having fulfilled his mother's wish -- and defied his brother's grim prediction -- the 63-year-old now says he wouldn't allow anyone to make the same trip.
The Chechnya Conflict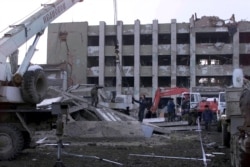 The aftermath of a December 2002 Chechen resistance attack on the main government building in Grozny (epa)


CHRONOLOGY
The
fighting in Chechnya
has raged, with short breaks, since 1994. It has brought misery, death, and destruction to the North Caucasus republic and to Russia as a whole. View an
annotated timeline
of the conflict.

ARCHIVE
RFE/RL's complete coverage of Russia's war-torn Republic of Chechnya.