Key States Call For Quick Resumption Of WTO Talks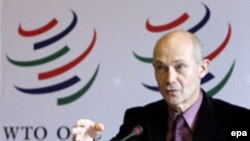 WTO Director-General Pascal Lamy (file photo) (epa) January 27, 2007 -- Ministers from 24 key trading countries meeting in Davos today expressed support for a "quick resumption" of the frozen Doha Round of global trade talks.
The Swiss Economics Ministry, which hosted the meeting together with World Trade Organization (WTO) Director-General Pascal Lamy, said the leaders expressed a strong wish for a quick resumption of full-scale negotiations in Geneva.
"The clear signal for the resumption of full scale negotiations in Geneva got strong support from political leaders and the business community gathered in Davos," the statement said.
Lamy made similar remarks, saying key trade ministers have backed his call for a resumption of the Doha talks.
The select group of WTO members met on the sidelines of the World Economic Forum to seek a way forward for the five-year-old talks, which broke down in July as the European Union, the United States, and developing countries continued to squabble over trade tariffs.
"We must tell the world that the Doha round is not dead," EU Trade Commissioner Peter Mandelson said.
(Reuters, AFP, AP)