Seif al-Islam told the Bulgarian newspaper "24 Hours" today that the nurses' trial was "unfair" and that he has proposed a plan to free the nurses in exchange for financial compensation to the victims' families.
Al-Islam said he had discussed the plan with Bulgarian and EU officials. He gave no other details.
The nurses and a Palestinian doctor were sentenced in December for having infected 426 children at a Libyan hospital with blood tainted by the HIV virus, which causes AIDS. More than 50 of the children have died.
EU and Bulgarian officials have claimed the defendants are innocent and called for their release.
(AFP, Reuters)
RFE/RL Reports On AIDS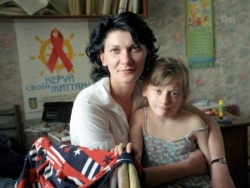 An HIV-positive Ukrainian woman and her daughter (epa)

FACES OF THE EPIDEMIC: HIV-infection rates continue to soar in many parts of RFE/RL's broadcast region, from Ukraine and Russia to Central Asia. RFE/RL frequently reports on the problems associated with the pandemic and efforts to combat them.
RELATED ARTICLES
China Steps Up Fight Against Spreading Epidemic
Iranian Brothers Change The Face Of HIV, Drug-Addiction Treatment
Drug-Treatment Effort Targets HIV/AIDS In Afghanistan
Tatarstan Clinic Is Bold Exception In Russia's HIV Battle
Fourteen Kazakh Children Infected With HIV In Hospitals
UNAIDS Head On Epidemic In CIS
Russia's 'Miss Positive' Puts Public Face On Battle With HIV/AIDS