Trial Of Bulgarian Nurses Reopens In Libya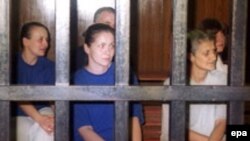 Some of the Bulgarian medics on trial in Libya for infecting Libyan children with HIV/AIDS (file photo) (epa) July 4, 2006 -- Bulgarian Foreign Minister Ivaylo Kalfin expressed his regret today that Libyan prosecutors have again charged five Bulgarian nurses and a Palestinian doctor with deliberately infecting more than 400 Libyan children with AIDS.
The trial of the six medics, who have been in jail since 1999, resumed on July 4.
They repeated their claim that they had been tortured into making confessions.
The six were condemned to death in May 2004 but the Supreme Court ordered a retrial.