Iraqi sources report a big victory in the fighting near Al-Najaf. The losses of the Iraqi troops are reported to be minor -- three soldiers killed and 21 injured. U.S. officials say two of their troops died when a helicopter crashed, but did not confirm any of the Iraqi casualty figures.
Al-Najaf's governor said the group planned to attack pilgrims and assassinate Shi'ite clerics.
The head of Al-Najaf governorate, Asaad Abu Gilel, told reporters that the group was well armed and equipped. "They even have antiaircraft missiles and were backed by some locals," he said.
A New Shi'ite Militia?
There is still uncertainty over the identity of the group of several hundred armed men.
Mustafa Alani, a regional expert at the Dubai-based Gulf Research Center, says one possibility is that the men belong to an Al-Qaeda-affiliated group. If so, they could have been in the vicinity of the Shi'ite holy city of Al-Najaf to launch attacks during celebrations of the Ashura festival.
Alani says another possibility is that the U.S. and Iraqi troops were fighting a new, messianic Shi'ite militia called the Army of Heaven:
"It is a new militia emerging from [other Shiite] militias," Alani says. "You have the Badr militia, you have the Al-Mahdi Army, and you have an [armed] group which belongs to the Al-Dawa party. Now, apparently, if this [theory] is true, we have another, fourth militia emerging now -- a [new] Shi'ite militia."
'Plans To Attack' Pilgrims
The group – which by some reports also attracts some Sunni members – aims to clear Iraq of temporal leaders in order to hasten the return of the Mahdi, a messianic figure in Islam.
Al-Najaf's governor said the group planned to attack pilgrims and assassinate Shi'ite clerics.
Authorities said the group's leader was among those killed in the fighting.
Some analysts question the high death tolls reported in the battles.
Alani says the figures may reflect a tendency by government officials to exaggerate victories.
"Since 2003 and until now, they [say] that possibly 10,000 [enemy fighters] were killed and I don't think this is the right figure," he says. "So, there is a tendency to exaggerate the number of casualties among the resistance and terrorists. It is a habit now."
There is no independent confirmation of the number of casualties in the fighting.
Sectarian Iraq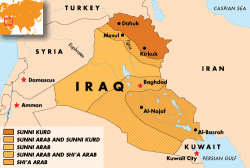 Click to enlarge the image.
SUNNI, SHI'A: Iraq is riven along sectarian lines, faults that frequently produce violent clashes and are a constant source of tension. Sectarian concerns drive much of Iraqi politics and are the main threat to the country's fragile security environment.


THE COMPLETE PICTURE: Click on the image to view RFE/RL's complete coverage of events in Iraq and that country's ongoing transition.