U.S. Military Says 600 Militiamen Detained In Iraq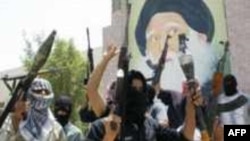 Fighters loyal to Shi'ite leader Muqtada al-Sadr (file photo) (AFP) January 23, 2007 -- The U.S. military says its troops and their Iraqi allies have captured more than 600 militiamen loyal to radical Shi'ite cleric Muqtada al-Sadr in the past six weeks.
A military statement said 16 top leaders of al-Sadr's Mahdi Army militia are in detention, awaiting prosecution by Iraqi authorities.
It said that 33 Sunni extremists, described as "cell leaders," had also been captured.
The statement comes amid deadly sectarian and insurgent violence that killed at least 100 people in and around Baghdad on January 22.
(AFP, AP)
Saddam Hussein: Looking Back

A DICTATOR'S LIFE:
A photo gallery of images from the life of former Iraqi President Saddam Hussein.
MORE: A timeline of the life of Saddam Hussein.