Iraqi Shi'ite MPs Discuss Coalition With Top Cleric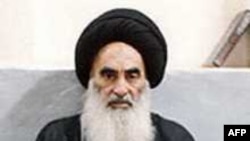 Grand Ayatollah Ali al-Sistani (file photo) (AFP) December 23, 2006 -- Members of the United Iraqi Alliance, the Shi'ite coalition that dominates Iraq's parliament, met today with religious leaders in Al-Najaf to discuss a U.S.-backed plan to build a coalition including Sunnis and Kurds.
But the lawmakers said they failed to win support for the plan from Grand Ayatollah Ali al-Sistani, the top Shi'ite cleric who holds strong influence over Shi'ite politics.
The politicians also met with radical cleric Muqtada al-Sadr, but failed to meet his main demand: a timetable for U.S. troops' withdrawal from Iraq.
(AFP, AP)

SUBSCRIBE For weekly news and analysis on Iraq by e-mail,
subscribe to "RFE/RL Iraq Report."